by m.tamosauskas| February 14, 2015 | No Comments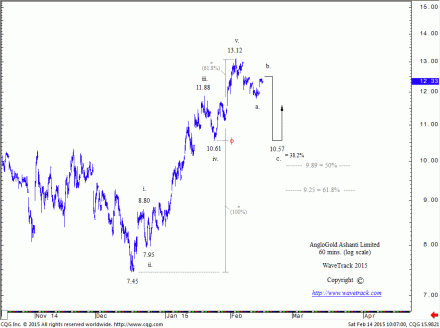 AngloGold Ashanti is already up +65% from its December '15 low of 7.45 – one of the best performing gold mining stocks we are monitoring. The advance from this low has clearly unfolded into a five wave expanding-impulse pattern, labelled i.-ii.-iii.-iv.-v. in minor degree. Moreover, our fib-price-ratio analysis confirms this view: extending the net advance of waves i. to iii. (7.45-10.61) by a fib. 61.8% ratio, the ideal measured high for minor wave v. was at 13.08 whilst the actual high was recorded at 13.12. All of this is suggesting the directional change to the upside. Shorter-term, the counter-trend decline from the 13.12 high is currently in progress with minimum downside objectives measured towards 10.57+/- – a fib. 38.2% retracement level of the preceding advance. Once tested, a reversal signature to the upside would confirm the resumption of the larger advance.  The next surge higher is expected to be larger than the initial advance (7.45-13.12), so stay tuned, the 'inflation-pop' scenario is on the corner!
by WaveTrack International| February 3, 2015 | No Comments
Ahead of the LBMA (London Bullion Markets Association) Assaying & Refining conference to be held in London on the 8th-10th March, the LBMA announced the submissions from 35 global analysts for their average price forecasts for gold and silver for the year 2015.
As can be seen from the above averages taken from all 35 submissions, there is a 'herding' mentality to predict average prices not too far from current levels. For example the average expected price for gold is $1211.00 whereas the current price is trading at $1275.00 – not too far away given prices have swung much farther already during the last month alone. Silver averages at $16.76, a price level that even traded last Friday. This is not much of a forecast – we might as well pack up and go home!
That said, the high/low average that some predicted for gold fluctuates from the most bullish at $1321.00 to the most bearish at $950.00. For silver, the high/low average of forecasts range between $18.56 as the highest and $13.00 as the lowest. These huge differences of opinion is something that you would not expect to see given that fundamental drivers must surely be the same for everyone!
Elliott Wave: from our own perspective, looking ahead for this year, 2015, we expect much higher price levels than all of these analysts. This is because Elliott Wave patterns that have taken several years to develop have reached terminal downside levels last November/December. This is particularly true for most of the gold/silver mining stocks.
We have issued various updates that confirm new medium-term uptrends have begun for the major mining companies in recent monthly reports. For example, the XME GOLD/Silver index hit into our downside targets last November '14 with the following advance already up +30.90% per cent!
Special reports can also be downloaded FREE and are located in the 'SPECIALS' tab of the Elliott Wave Compass report.
You can subscribe using the link below and GET IMMEDIATE ACCESS!

Subscribe now to the EW-Compass report.
Category:
Commodities
,
economy
,
Elliott Wave
,
Elliott Wave Principle
,
Gold
,
Palladium
,
Platinum
,
Precious Metals
,
Silver
,
trading
,
WaveTrack International
by WaveTrack International| January 27, 2015 | No Comments
NEWS ALERT | INTERVIEW by the Gail Fosler Group
In a recent interview with Peter Goodburn by Gail Fosler important questions were raised
Why could there be a major turn in Commodity markets?
What impact this has for the global economy?
Have central banks adopted policies of fostering inflation?
Read more here http://goo.gl/BqpYbk
About the Gail Fosler Group:
Gail D. Fosler is president and economic visionary, The GailFosler Group LLC, a strategic advisory service for global business leaders and public policymakers. The GailFosler Group provides in-depth analysis of economic, financial and public policy issues and creates new concepts and frameworks for business and government leaders to support successful decision making.
Fosler is former president and trustee of The Conference Board, and is a member of The Conference Board's Global Advisory Council. Fosler served as president of The Conference Board from October 2007 to December 2009. From 1989-2008, she served as chief economist. In 2004, she assumed responsibility as executive vice president for expanding the international presence and operations of The Conference Board. Read more here http://goo.gl/ruXQUD
Category:
central banks
,
Commodities
,
Copper
,
Crude oil
,
economy
,
Elliott Wave
,
Elliott Wave Principle
,
Financial Forecasting
,
Gold
,
trading
,
WaveTrack International
Tags:
Commodities
>
copper
>
crude oil
>
elliott wave
>
gail fosler
>
Gold
>
trading
by m.tamosauskas| January 25, 2015 | No Comments
Syriza wins Greek election and EUR/USD tumbles down in the fastest pace since the July '08 high of 1.6040. However, a seven-year decline is clearly overlapping and every Elliott Wave enthusiast should notice that it is composed of seven price-swings – a common characteristic of a counter-trend sequence. A fib-price-ratio analysis suggests a real test of this decline will come very soon at 1.1065 price level. This is derived by using a fib. 100% equality ratio between the initial three wave decline (1.6040-1.1876) and the secondary three wave decline that began from the May '11 high of 1.4944. A reversal signature to the upside from this support level would confirm the completion of a double zig zag pattern, labelled A-B-C-X-A-B-C in primary degree. Stay tuned!
by m.tamosauskas| January 22, 2015 | No Comments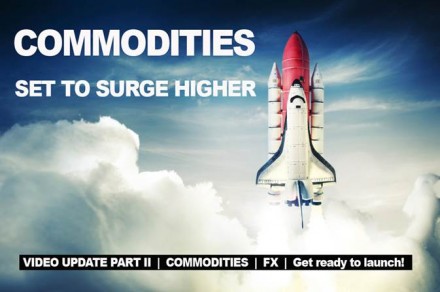 The latest edition of the
Elliott Wave Compass
report has just been released and
WaveTrack's long awaited Commodity and Currency video
!
Learn why Commodities & Currencies (PART II) – Commodity declines of the last few years are now approaching important downside targets that complete 3½+/- year corrective patterns that began in early 2011. Copper, Crude Oil and particularly Precious Metals are signalling directional changes that begins the 2
nd
upswing phase of the 'Inflation-Pop' that originally began from the late 2008, early 2009 lows. The US$ dollar has also reached an important upside target that justifies its completion of the entire counter-trend upswing that began from the March '08 lows. In this latest video, we discuss these current set-ups and how they continue during the next few years:
·
Industrial metals are unfolding into archetypal multi-year zig zag patterns from the 2008/09 lows with the next stage set to begin huge price advances for Copper and Platinum
·
Precious metals have turned the corner last November/December '14, ending counter-trend declines from the year-2011 highs. Gold and Silver mining stocks have ended expanding flat patterns from the year 2007/08 highs and are set to explode higher during the next few years
·
The US$ dollar enters a period of significant declines – this corroborates the dollar-denominated commodity upsurge that enters the next stage of the 'Inflation-Pop'.
How do you access this video?
Please become an EW-Compass subscriber and log-in to your account at
www.wavetrack.com
. Open the EW-Compass application and view all the latest price-forecasts online in our purpose-built Elliott Wave software.
Category:
Commodities
,
Copper
,
Crude oil
,
crude oil price chart
,
Currencies
,
Elliott Wave
,
Elliott Wave Charts
,
Elliott Wave Patterns
,
Elliott Wave Principle
,
Emerging Markets
,
fib-price-ratio
,
Financial Forecasting
,
FX
,
Gold
,
Silver
,
WaveTrack International
Tags:
Commodities
>
Elliott Wave analysis
>
EW-Compass
by m.tamosauskas| January 19, 2015 | No Comments
Basis fib-price-ratio analysis, the decline from the Jan.'08 high of 845 to the Aug.'12 low of 47 has unfolded into a single zig zag pattern, labelled (A)-(B)-(C) in intermediate degree. Since the price history for this equity is limited, the following advance may have begun a new bull market with upside targets to record highs or the balancing phase of the preceding decline as wave 'X'. In both scenarios the mid-term outlook for this equity looks bullish with a high probability of trading above 165 in the months ahead.
by WaveTrack International| January 16, 2015 | No Comments
For the first time in several months, Crude Oil has staged a five wave impulse upswing from a residual low, in this case, from the 44.20 level traded last Tuesday. This confirms a meaningful reversal-signature has occurred with upside continuity assured during the next several trading days to next levels at minimum 56.19+/- or max. 65.18+/-.
This five wave pattern has perfect Elliott Wave pattern integrity complying with archetypal guidelines – it subdivides into a 5-3-5-3-5 sequence, wave [ii] two does not break below the origin of wave [i] one, wave [iii] three is the longest of the impulse waves, and wave [v] concludes above the price-extremity of wave [iii] three. Furthermore, geometric fib-price-ratios corroborate the identification of the five wave pattern where minuette wave [i] one is extended by a fib. 161.8% ratio to project the terminal high for wave [v] to 51.27 – this was an exact attempt that stopped any further upside progress, inducing a corrective sell-off to follow.
The Elliott Wave Principle states that the corrective decline cannot break below the origin of the preceding impulse that began from 44.20 and so there is now an excellent risk-reward set-up given prices have already retraced down to 46.07.
by WaveTrack International| January 15, 2015 | No Comments
The Swiss National Bank (SNB) has just announced it is abandoning the Swiss Franc's peg to the Euro. This was originally planned over 3-years ago in order to shield the Swiss economy from the Sovereign Debt Crisis in Europe.
In early morning trading, the Euro has plunged lower from levels beforehand at 1.2000 to a low at 0.9608 – see chart. The SNB concluded that "enforcing and maintaining the minimum exchange rate for the Swiss franc against the euro is no longer justified".
The Elliott Wave count describes a long-term triple zig zag decline in downside progress from the October year-1939 highs of 3.499. What you see in this chart is the third and final zig zag sequence beginning from the Oct.'07 high of 1.6828. Cycle wave A ended a five wave impulse decline into the August '11 low at 1.0068 just prior to the SNB stepping in to begin the weakening of the Swiss Franc. Note the double 'golden-section' levels marked with the red phi symbols at the high of intermediate wave (4) and the low of wave (5) – these are standard fib-price-ratio measurements that define the ultimate downside target levels that ended primary wave 5 at 1.0068.
Later, wave B ended counter-trend rallies into the May '13 high at 1.2650. The gradual decline since has been the precursor to today's collapse as part of cycle wave C. As we project out for the next few years, ultimate downside targets measure towards 0.7411-0.7329 but this is not expected to be tested until late year-2019.
by m.tamosauskas| January 12, 2015 | 2 Comments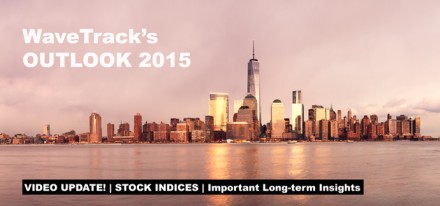 Stock Indices (PART I) – Original S&P upside forecasts published October 2009 and updated in July 2012 forecast levels higher by +87% – those numbers are now being tested! In this video, you will discover:
how this EW pattern and forecast was constructed
why the Elliott Wave count was so accurate and
why current levels have reached a decisive crossroad for 2015 and beyond
The next phase of WaveTrack's 'Inflation-Pop' is set to begin for other asset classes, but in this video, you will discover some amazing price-forecasts for U.S., European and Asian stock markets – how they interact and what price levels we can expect to see during the next year and beyond! This video is a 'must see' in terms of Elliott Wave because it will slice through mainstream misconceptions and give you a precise guide for what to expect during the next few years – let our Track Record speak for itself!
Subscribe to the Elliott Wave Compass report and view the video absolutely FREE!
P.S. Part II will be published soon – Commodities & Currencies
Category:
Australia ASX 200
,
DJ Utilities
,
Dow Jones 30
,
Elliott Wave
,
Emerging Markets
,
Eurostoxx 50
,
Hang Seng
,
India-CNX Nifty 50
,
Nasdaq 100
,
Nikkei 225
,
Russell 2000
,
Russia RTS
,
S&P 500
,
WaveTrack International
Tags:
Elliott wave video update 2015
by WaveTrack International| January 9, 2015 | No Comments
Following Tuesday's US$/Yen's reversal-signature from the corrective low at 11806, the larger uptrend developing from the mid-Dec.'14 low of 11556 continues higher. This next sequence of the advance from 11806 ran into short-term resistance during Thursday's session at 11997 but the overnight sell-off into early trading Friday is again showing itself unfolding into a classical Elliott Wave corrective pattern, in this case, a double zig zag – see chart.
The double zig zag is labelled (a)-(b)-(c)-(x)-(a)-(b)-(c) and assigned sub-minuette degree according to our proprietary nomenclature, but the important aspect that defines the double zig zag is the initial three price-swings contained in the first zig zag ending at 11938 and then a deep corrective rally as wave (x) that overlaps the initial decline of wave (a). This ensures this pattern as a correction within an established uptrend and not part of a five wave impulse downtrend.
And to confirm the double zig zag pattern, from wave (x)'s high at 11987, another three wave pattern unfolded downwards, ending at 11917. Importantly, fib-price-ratio measurements confirm its completion at 11917 – one of the more common geometric ratios can be used by extending the first (a)-(b)-(c) zig zag to 11938 by a fib. 38.2% ratio – this projects to the exact low at 11917. From this, we can determine that a short-term corrective downswing has ended, with the larger/aggregate uptrend now set to resume.
Category:
Currencies
,
Elliott Wave
,
Elliott Wave Charts
,
Elliott Wave Patterns
,
Elliott Wave Principle
,
fib-price-ratio
,
Fibonacci Trading
,
FX
,
Ralph Nelson Elliott
,
USD/YEN
,
WaveTrack International
Tags:
USD/YEN
keep looking »