by m.tamosauskas| March 3, 2014 | No Comments
By no means we were projecting this downside target basen on current fundamental news, but the forecast published November '13 remains in progress. The good news about that – the worst part for the Russia RTS index (wave 3rd of 3rd) hasn't produced anything catastophic, so let's hope only a downside momentum has left.

by m.tamosauskas| February 28, 2014 | No Comments
Today Peter Goodburn was attending in CNBC and explaining the big story developing in Emerging Markets and industrial metals. Check this video by clicking this link:
http://video.cnbc.com/gallery/?video=3000248332
by m.tamosauskas| February 27, 2014 | No Comments
CNBC – Live Interview with Peter Goodburn -tomorrow- 7 a.m. GMT, London time – 28th February 2014.
This is a unique opportunity to listen to Peter Goodburn's views for the base metals market on CNBC's flagship show Squawk Box.
Link in & watch the show live tomorrow!
http://www.cnbc.com/id/15838652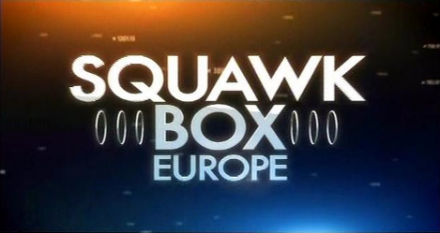 by m.tamosauskas| February 24, 2014 | No Comments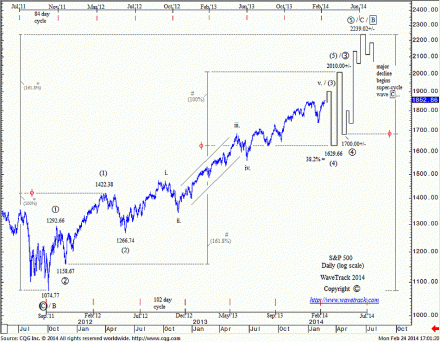 Cycle wave C is in upside progress beginning from the Oct.'11 low of 1074.77. It is taking the form of a five wave expanding-impulse pattern with several degrees of subdivision in its expanding 3rd wave as primary wave 3 that began from the secondary low of 1158.67. Intermediate wave (3) is shown with immediate upside potential to 1900.00+/- prior to a sustained sell-off as wave (4) to the fib. 38.2% retracement at 1629.66+/-.
by m.tamosauskas| February 14, 2014 | No Comments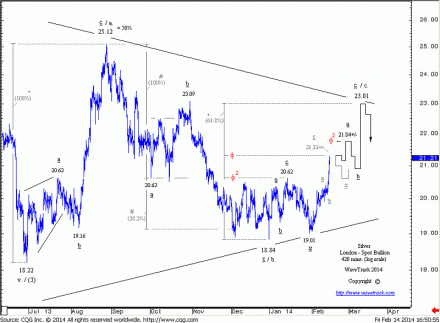 A lot of excitement today in the precious metal market since gold and silver are breaking above their 200-day moving average.  However, our view remains the same – the larger declines are still in progress with lower lows yet to come. The advances that began in June '13 depict gold is unfolding into a counter-trend horizontal flat pattern, whilst silver is unfolding into a contracting triangle. This short-term silver chart shows minor wave c. is in progress with two additional price-swings (minor waves d. and e.) required to complete the sequence.
by m.tamosauskas| February 13, 2014 | No Comments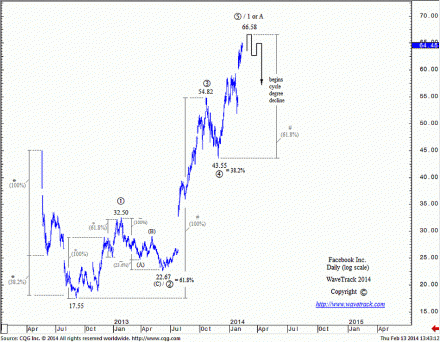 Facebook is maintaining the upside momentum. The advance that began from the Sep.'12 low of 17.55 is expected to unfold into a five wave expanding-impulse pattern labelled 1-2-3-4-5 in primary degree. Ultimate upside target is extended towards 66.58 and is derived by using a fib. 61.8% correlation ratio between the net advance of primary waves 1 to 3 (17.55-54.82) and wave 5.
Since the data history of Facebook is limited, it is difficult to extrapolate the larger degree pattern; however, any five wave advance must be balanced by a counter-trend decline and so, once upside target to 66.58 has been tested, Facebook is expected to stage a multi-month decline with minimum downside targets measured towards 43.35+/- – back to a smaller degree 4th wave preceding.
by m.tamosauskas| February 12, 2014 | No Comments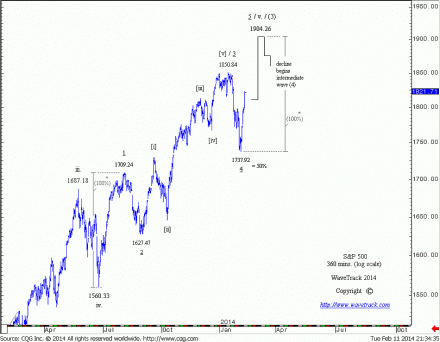 The upside recovery from last Wednesday's low of 1737.92 has been expected to act as a counter-trend sequence of the January sell-off with upside targets into the fib. 61.8% retracement level at 1806.86 or max. 76.4% at 1824.00+/-. Although this level is only now being tested, the problem is that the rally has had such a sharp trajectory that it's almost impossible to see any three wave structure that would define this as a counter-trend pattern.
The S&P is not the only index that has accelerated vertically – this includes the Dow Jones (DJIA) and especially the Nasdaq indices that are already close to breaking above the existing January '14 highs. This of course would postpone the larger intermediate degree wave (4) declines forecast in recent updates.
It now seems probable that the mid-Jan.'14 sell-off was in fact a counter-trend pattern within the existing uptrend in progress from the June '12 low as intermediate wave (3). Subdividing wave (3) into a five wave pattern relocates its fourth wave low, minor wave iv. four, into the June '13 low at 1560.33 – see fig #1. Then, subdividing minor wave v.'s five's advance into a smaller five wave sequence as 1-2-3-4-5 would locate last week's low at 1737.92 as wave 4. This would explain the explosive upward acceleration that has continued this week as wave 5 is now in upside progress to new record highs.
A minimum upside target now projects to 1904.26 and this is derived where waves 1 and 5 measure equally, oscillating to a fib. 100% equality ratio. This is not too far above the 1885.26 number that is measured from extending minor wave i. one by a fib. 161.8% extension ratio. A higher level towards 1931.33 is calculated by taking a fib. 61.8% correlative ratio of waves 1-3 = 5 but this seems to overdo it especially when comparing with the potential of other indices.
by m.tamosauskas| February 7, 2014 | No Comments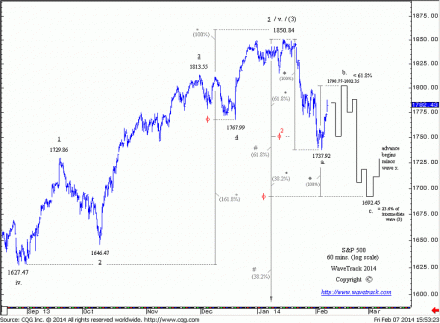 As expected, S&P 500 is rebounding from a very oversold conditions. Strong price rejection from 1737.92 has validated minor wave a.'s conclusion at 1737.92. This implies no immediate downside continuation to original targets at 1720.64 but instead an advance towards idealised upside at 1800.00+/-. In a way, this simplifies the entire downswing from the 1850.84 high as it suggests a single zig zag sequence towards the important downside support at 1692.45.
Don't forget – tomorrow we are starting our FREE WEEK campaign, register today and get access to our EW-Compass report from the 8th to 15th of February. And of course let us know what do you think about our services

by m.tamosauskas| February 5, 2014 | No Comments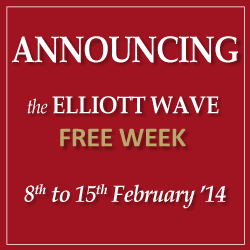 At the beginning of next month we are announcing a FREE WEEK of EW-Compass! Stay tuned for more details.
by m.tamosauskas| January 31, 2014 | No Comments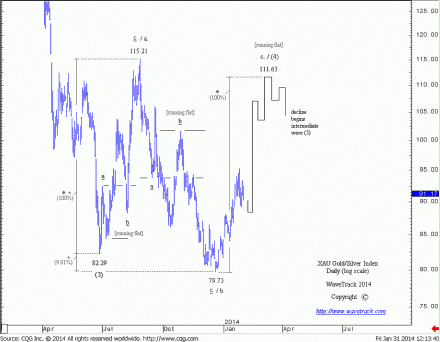 As gold and silver continue their declines from the 2011 highs, the consensus bearish expectations are gradually worsening to extreme levels. Many financial institutions have begun the year by lowering their targets for 2014 whilst the latest batch of sentiment figures indicates very few people are willing to risk investing in this asset class.  This is a carryover from last year when hedge funds and retail investors liquidated their physical gold holdings to the lowest figure in five years. In fact, this shouldn't be a big surprise – gold's year over year performance is the worst since 1981. But as we all understand, bear and bull markets don't exist forever, at some point they exhaust and the next cycle will take a lead. The million dollar question is when will this next event occur? Our Elliott Wave analysis suggests the precious metal declines will complete within the next few months and then begin a dramatic turn-around! Gold can easily double in price whilst silver can triple, moreover, even more upside can be expected from selected mining companies! In this special EW-Compass monthly Bonus chart we are providing an Elliott Wave analysis of the XAU – Gold/Silver Index – a mix of gold and silver mining companies. Short-term price development indicates some continued range-trading following the June-December lows of 2013 but once completed, a final decline unfolds into our projected lows – see chart below. Two additional charts with a longer-term perspective are included in this month's special EW-Compass Bonus report so don't miss this opportunity in taking a look at our forecasts.
keep looking »