by WaveTrack International| January 29, 2016 | No Comments
China's influence on the world economy made recent headlines in a Bloomberg interview with financier and philantropist George Soros. According to Soros (published 17th January 2016 – font page of the Financial Times): "China is the 'root cause' for this years global bear market, citing deflation and excessive debt as a key issues. A hard landing for the Chinese economy was 'practically unavoidable'." This remark prompted a strong responds from the Chinese government 'Beijing warns Soros against declaring 'war on the renminbi'. Read the FT's shortened online article here:
China mouthpiece warns Soros against shorting renminbi
The term global economy with all its implications becomes now more apparent then ever when we consider that the Chinese Renminbi/Yuan has dropped 5.7 per cent against the USD since last August.
In the light of these recent events Peter Goodburn's latest forex article on the USD/CNY and the USD/ZAR is especially interesting as he remarks that "China's stock market continues to trade lower although the recent accelerative decline is in-line with our annual forecasts (see Stock Index video announcement) and shows the implications of this trend for China's Renminbi/Yuan -USD/CNY as well as the South African Rand. Download the free IRP Journal here to review the full article and Elliott Wave charts WaveTrack has updated to show an independent view on this development:
Enjoy and stay tuned for more interesting news one Elliott Wave and Financial Markets…
by WaveTrack International| January 28, 2016 | No Comments
ANNOUNCEMENT
UPDATED VIDEO – PART I – STOCK INDICES is available now
Elliott Wave Price Forecasts & Cycle Projections for 2016 and beyond.
WaveTrack's new semi-annual video IS AVAILABLE NOW. This video takes a look at trends for global STOCK INDICES – including longer-term forecasts for the S&P 500, Dow Jones, Russell 2000, Nadaq 100, KBW Banking, EuroStoxx 50, Hang Seng, Kospi, Singapore Straits, Nikkei, Bovespa and more.
There are in total 36 chart updates for stock indices in this update, lasting around 90 minutes! Each chart is drawn with Elliott Wave patterns and intricate fib-price-ratio's. The main content focuses on the location and progress of the different global stock markets and the disparate performances comparing the U.S./Europe to Asia/Emerging Markets. I believe the differences reinforce the concept that commodity prices will soon begin an upward surge sometime in 2016.
PART I, STOCK INDICES video can be watched immediately, by logging into the EW-Compass software (subscription content) and clicking on the text-link provided within the SUMMARY text – it contains extremely valuable information!
All the best to you,
Peter Goodburn
Would you like to watch this global Stock Indices video? Simply subscribe to WaveTrack's bi-weekly Elliott Wave Compass below and receive short-term updates of various asset classes.
Successful trading with WaveTrack International
Subscribe to the EW-Compass here…
Category:
Dax 30
,
Dow Jones 30
,
Elliott Wave
,
Elliott Wave Charts
,
Eurostoxx 50
,
fib-price-ratio
,
Fibonacci Trading
,
Hang Seng
,
Nasdaq 100
,
Nikkei 225
,
Russell 2000
,
S&P 500
,
WaveTrack International
Tags:
China Enterprises Index
>
Sensex
>
Singapore Straits Times
by WaveTrack International| January 20, 2016 | No Comments
Dale Pinkert asked Peter Goodburn back to join the FXStreet's Live Forex Room. The #FXroom is the new Online TV channel 100% Forex. In this latest interview Peter provides updates on many instruments including the possibility if the S&P500 hold last August's lows a rally to new highs towards 2200 in SPX is possible. Peter's work also allows for another move lower in EURO to under parity and Gold downside of $1016. Crude oil after a bounce should bottom in the $25 range.
Listen to this interview and connect with FXStreet and Dale Pinkert!
Interested in more market updates by Peter and his Elliott Wave team? Check out WaveTrack's bi-weekly Elliott Wave Compass report features many short-term updates of various asset classes.
Successful trading with WaveTrack International
Subscribe to the EW-Compass here…
by WaveTrack International| January 7, 2016 | No Comments
ANNOUNCEMENT | IRP JOURNAL | Latest Edition
To all our Subscribers, Club/Registrant members and Twitter/Facebook followers, we are pleased to announce WaveTrack International's latest article published in the Independent Research Provider's magazine. Issue 8/Volume 1 for December 2015 is off the press and you can read our article and others right now with this FREE complimentary download – just click on the link below:
Furthermore, if you are interested in receiving the online-magazine each month, you can sign up for FREE, using this link:
Ensure that you insert your contact details into the correct category – for 'Buy-Side' (institutional) companies, Investment Banks, Pension Funds, Total/Absolute-Return/Hedge Funds, Sovereign Wealth Funds, Corporate and Market-Making/Trading institutions and informed individuals, use the 'registration' to the left of the page.
Why is Independent Research important?
Only conflict-free research can be used as an viable tool in investment decision-making.
How can you insure unbiased research?
Member business models are based on revenues paid to them for providing quality research – not from investment banking, underwriting, proprietary trading or market making, advisory or consultancy services for clients other than investors, or from companies that are the subject of their research.
What does IRP stand for?
Independent Research stands for quality, impartial investment research.
Connect to the IRP Journal via Twitter: IRP Journal TWITTER
WaveTrack is memember of the EuroIRP Association and supports the development of Independent Research.
The next Generation: Learn more why Independent Research is best financial trend in the last decade:
EU rules demand transparent research fees – Financial Times
by WaveTrack International| January 6, 2016 | No Comments
In November, we spotted a very interesting pattern developing for Australia's ASX 200. The underlying story line is that the index (chart in the background) unfolded into an expanding flat counter-trend correction from its 4928 low whilst the futures (inset chart) synchronised with a single zig zag advance from their corresponding (deeper) 4733 low.
In the 13th November issue of our report, we forecast the ASX 200 to build to the downside in the weeks ahead as this convergence of pattern finalisation (an expanding flat for the index, a single zig zag for the futures) indicated the completion of the entire counter-trend correction labelled wave X in primary degree. But: we also forewarned of a possible halt at the 4963.00+/- level (see futures inset) that was derived by a fib. 61.8% extension of the initial sell-off from the October high of 5385.
What happened during the following weeks? The ASX 200 traded into a low of 4959 (see inset) and immediately reversed to the upside. This was no coincidence but the proof of well-established fib-price-ratio measurements – when prices react to these, it is almost always a strong sign of a more pronounced change in direction. In terms of the current situation for the ASX 200, it meant that the downswing from the October high of 5385 was only a temporary pullback – primary wave X would have to extend into a more complex correction: in case of the index, into a rare double three sequence (see background chart); in case of the futures, into a progressive double zig zag pattern (see inset).
Don't forget – our bi-weekly Elliott Wave Compass report features many short-term updates of various asset classes.
Start your New Year with Success
Subscribe to the EW-Compass here…
by WaveTrack International| December 25, 2015 | 1 Comment
by m.tamosauskas| December 24, 2015 | No Comments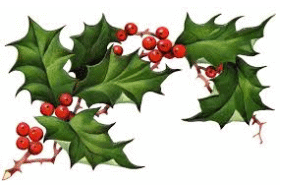 We'll be taking the opportunity to rest the team a little during the following week, so this week's  EW-Compass report is the last for the year – the next edition will be published on Wednesday 6th January.
But we'll still be working during the interim period, collating all medium-term wave counts in preparation for the publication of our latest
bi-annual video forecasts
. The extent of tracking all four asset classes, so many contracts has expanded exponentially over the last few years, driven by the demand from you, our customers! This has necessitated creating all the Elliott Wave charts into a two-part series –
Part I will focus on Stock Indices, Part II Commodities, Currencies & Interest Rates
. Part I will be ready soon so watch out for another e-mail message from us during the next week! Part II will be created in January!
And so, wherever you are, whatever your faith, we hope that your Festivities and New Year will be joyous and successful – WaveTrack International

by m.tamosauskas| December 15, 2015 | 5 Comments
Last week we have been experimenting with the FEZ ETF which represents Eurostoxx 50 index. We found a near-perfect Elliott Wave structure and geometric Fib-Price-Ratio dimensions for a practice. As promised, now we are updating this chart with all annotations and explanation how to use our Fib-Price-Ratio methodology.  Enjoy!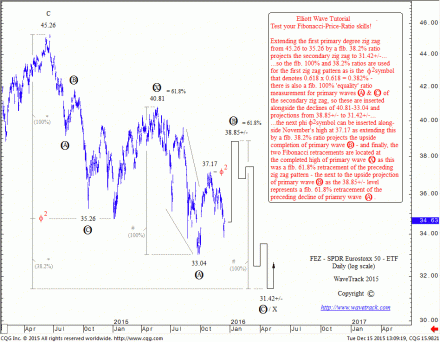 by m.tamosauskas| December 7, 2015 | 9 Comments
As we continue to update the myriad of different contracts within our ever-expanding portfolio in preparation for the release of annual 2016 forecasts, one new ETF has caught our attention. It is the ETF for the Eurostoxx 50 index and trades under the symbol FEZ. It has grossly underperformed the underlying index as all ETF's do within a persistent declining phase because of the latent roll-overs etc. But somehow, this one has retained its near-perfect Elliott Wave structure and geometric Fib-Price-Ratio dimensions.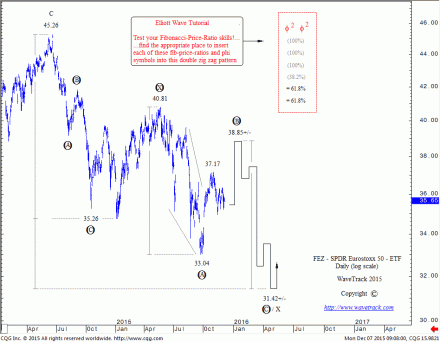 We would like to encourage you to train your eye spotting these powerful Fib-Price-Ratio and in this post we will leave annotations separate from the chart. Take a time and find most common Fibonacci ratios within a double zig zag pattern. We will update this chart during the next few days!
by WaveTrack International| December 4, 2015 | 8 Comments
Perfect Reaction Following ECB
Yesterday's market reaction following the European Central Bank announcement was entirely predictable – no guessing required. Wednesday night's update from the mid-week EW-Navigator supplement ahead of Thursday's ECB meeting concluded…
'…we expect the Eurostoxx 50 benchmark to decline by -5.4% per cent before resuming higher later. This probably suggests the ECB will either dilute its plan to extend its bond-buying programme or the market will be in some way disappointed with its tone'.
Contrary to consensus, this statement was made because a THREE WAVE ZIG ZAG pattern had just completed its advance from the mid-November low for the Eurostoxx 50 benchmark index. In this location, it is designated the SECOND sequence within a corrective EXPANDING FLAT decline, labelled intermediate wave (X). To complete the THIRD sequence, a decline of at least -5.4% was required. See original forecast from Wednesday's report – fig #1. Downside targets are forecast to 3290.43-86.17+/-. These are derived where minor wave a. of the expanding flat is extended by a fib. 23.6% ratio and where the decline ends at the fib. 38.2% retracement level of the preceding advance.
This next chart illustrates a close-up view of the expanding flat and what happened after the ECB announcement – see fig #2. The decline represents the THIRD sequence of the EXPANDING FLAT, labelled minor wave c. It must unfold into a five wave pattern – original downside targets remain valid, but we've added to additional Fibonacci levels using a fib. 38.2% extension ratio, and 61.8% to 3267.27+/- and 3231.39+/- respectively. The 3231.39+/- level is also the fib. 50% retracement level of the preceding advance from the September low.
In order to find the exact low point, the fourth wave within minor wave c.'s decline must unfold prior to taking additional measurements.
Looking at the implications of this EXPANDING FLAT, we know that such a pattern is a counter-trend sequence within a prevailing, dominant, directional UPTREND. So once completed, the uptrend is expected to resume.
Don't forget – our bi-weekly Elliott Wave Compass report features many short-term updates of various asset classes.
Successful trading with WaveTrack International
Subscribe to the EW-Compass here…
keep looking »