by m.tamosauskas| October 23, 2014 | 2 Comments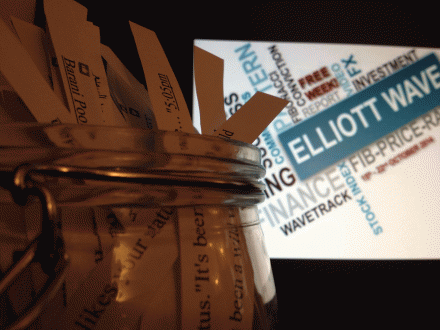 Here we go!
First of all, we would like to thank you ALL for your participation in our FREE WEEK campaign! Second, we have decided to change slightly the draw roles – two candidates are going out of our draw table because they have been the most active on our social network and definitely deserved the EW-Compass monthly subscription without any draw.
Praveen V. Shamain @praveenshamainand Giambattista Vico @alpine1300s thank you for your unstoppable support!!!
And here it goes, the other lucky EW enthusiasts were randomly chosen from our magic EW bucket

3 Facebook winners:
1. Lloyd Ames
2. Shahid Malang
3. Sasikumar Sor S Kumar
3 Twitter winners:
2. malikmehtab @mehtabmaliklive
Please send us a PM with your e-mail address. We will activate the subscription and will send you the account log-in details. Once more, all your activity in social network helps us to spread the news of WaveTrack International to as many people as possible in the Elliott Wave community.
All the best,
WaveTrack International team
by m.tamosauskas| October 22, 2014 | No Comments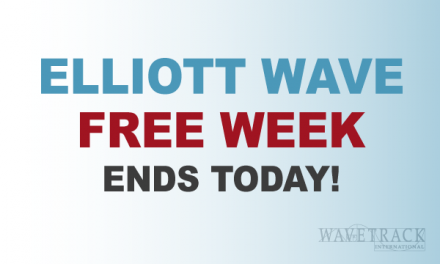 It's been a wild week in the markets but things are clearing up. An isolated three wave decline from the 2019.26 high on S&P 500 is giving a clear message for perma-bears – the uptrend from the '09 lows is not over! In today's EW-Compass report we will introduce shorter-term counts for major stock indices, including the Russell 2000 which has been a very good proxy for our Elliott Wave analysis:
Don't forget – today we end our FREE WEEK campaign but if you are a newcomer and register today, you will be able to download the latest reports for the next 7 days. And of course the last thing – by SHARING this information with your friends on Facebook or Twitter you will be included into our prize draw to win a FREE monthly EW-Compass subscription. The winners will be announced tomorrow. Thank you in your participation during this week, our teem wish you all the best!
by m.tamosauskas| October 16, 2014 | No Comments
WaveTrack
International
Welcomes you to the Free Week of the Elliott Wave Compass Report!
This is only the second time this year that we have opened the doors to a FREE WEEK of the ELLIOTT WAVE COMPASS REPORT but the timing couldn't be better! With our benchmark stock index, the S&P 500 trading into record highs at 2019.26 just a month ago, the picture suddenly began to change as upside targets were reached in September. This flagged a warning of an imminent top formation and an impending multi-month corrective decline set to begin – why not take a look for yourselves…
…the EW-Compass report dt. 29th September can still be download, FREE, from the archive section in the EW-Compass software – just go the menu at the top-left of the main-page and select 'Archive & Information' – in the list below, you can download all the recent reports, including the late-September issue that correctly forewarned our subscribers of an important inflexion point and a directional change. (TIP – if this rolls off the archive list, check out the 'Special' tab location in the 'Main-View' of the EW-Compass software).
Fast forward four weeks and the S&P 500 has declined by a massive 199.00 points, or by -9.8% per cent!
As a FREE WEEK participant, you are in a unique position to explore more of the 'goodies' that our regular subscribers benefit from – access to the archived reports is one way to see how we have performed, but there is more…
ACCESS TO ARCHIVED EW-COMPASS REPORTS
PART I VIDEO – 'THE INFLATION-POP' | STOCK INDICES
'SPECIALS' TAB REPORTS
Our team-head Elliott Wave analyst, Peter Goodburn has been publishing EW forecasts for over 25 years and has correctly 'called' many of the major price-swings of the last two decades. Towards the end of 2010, Peter identified many stock indices and commodity markets recovering from their financial-crisis lows whilst unfolding into five wave impulse patterns. That had a huge impact on the way in which asset price appreciation was to unfold in the following years. It was the PRIMARY FACTOR that led him to forecast the S&P 500 beginning another advance from the Oct.'11 low of 1074.77 with upside forecasts to 1833.22 – a massive gain of +758 points, or +70% per cent! This same five wave impulse pattern is visible in many commodities, including the key benchmark COPPER contract. This led Peter to term the ongoing advance as the 'INFLATION-POP' scenario and for many commodities, the next phase is due to begin in 2015. This is expected to result in a commodity upsurge that for many contracts, results in NEW RECORD HIGHS.
You have an opportunity to see how the 'inflation-pop' also affects some of the commodity-related stock indices, those that have underperformed during the last few years because they contained a commodity-weighted element, and we know what commodities have done in the past few years…trended downwards. But that is about to change next year.
Peter has prepared a video series to explain the 'inflation-pop' scenario and which stock indices will benefit the most – PART I is immediately available for viewing as part of the FREE WEEK promotion. It lasts for over an hour, and is quite detailed, so why not relax, take a cup of coffee and watch how the entire financial landscape is expected to change next year!
Another batch of 'goodies' can be found in the 'Special' reports tab, located in the main-view area of the EW-COMPASS software. These reports were added over the last couple of years and provide an amazing resource into important changes in various markets, from Emerging Markets, VIX, and Precious Metals – there is also some Elliott Wave Tutorial information that many of our subscribers have deemed to be the best around.
So there is much more to the EW-COMPASS FREE WEEK than just experiencing the latest updates of market price action – even though that has now gone into the records as the most volatile week for months! And the best bit we save 'till last – our subscribers only pay US$32.00 per month for the report!…shss!…it's a secret!
We hope you enjoy the experience of the EW-Compass report – and don't forget that we are always interested in your views comments and opinions – you can do this several ways – either by sending us a message using the 'Help Desk' messaging board located at the top-menu of wavetrack.com homepage, or why not follow us on TWITTER, FACEBOOK? – follow us and join our illustrious group of Elliott Wave investors, traders and enthusiasts.
All the very best,
WaveTrack's Elliott Wave Compass Team
by m.tamosauskas| October 9, 2014 | No Comments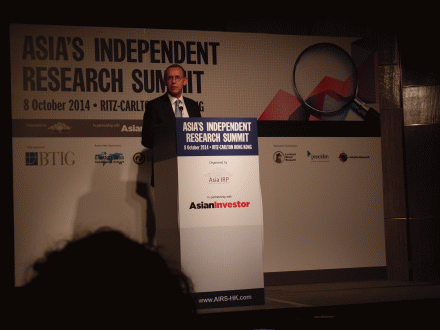 WaveTrack's Managing Director – Peter Goodburn was invited to speak at prestigious Asia's IRP conference presenting 'Commodities set to surge to record highs'. We were happy to share our thoughts where Elliott Wave can see a pattern ahead which the fundamental view is just slowly starting to pick up. Most of our subscribers are familiar with our 'inflation-pop' scenario, but keep in touch – we have more good news soon for you all!
by m.tamosauskas| September 29, 2014 | 2 Comments
Back in May '2014 we showed this Toyota Motor Corp. chart with a fib. 100% equality ratio and asked you one question: would you buy this equity here? The answer was YES and we shared this trading setup with all our subscribers: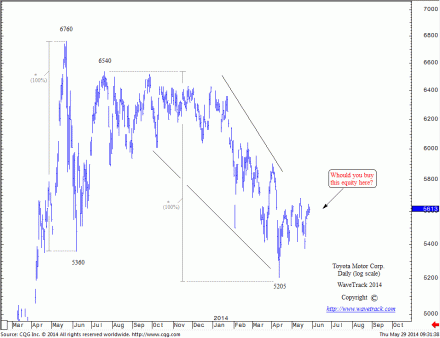 Here are the result – just few days after, this equity began an expansion phase as the third wave within a five wave expanding-impulse pattern. Now, this five wave advance is nearing its completion and moreover, the resistance level at 6575+/- shows a triple fib-price-ratio cluster. Expect a counter-trend decline as minor wave ii. to begin very soon!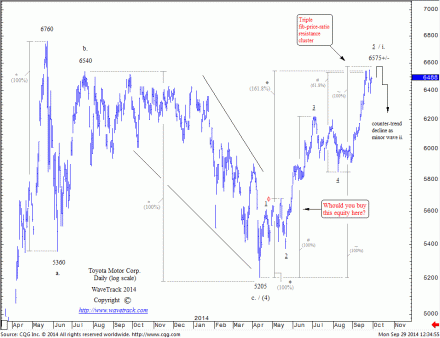 by m.tamosauskas| September 25, 2014 | No Comments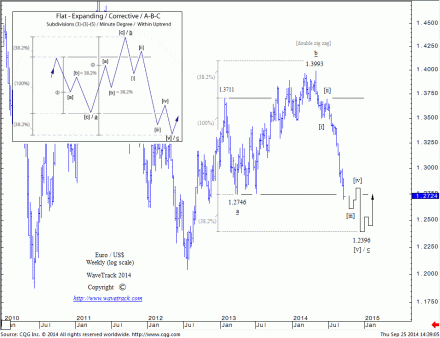 The decline that began from the January '13 high of 1.3711 is expected to unfold into an expanding flat pattern, labelled a-b-c in minute degree. A slight adjustments were made from our original forecast dated 05/09/14: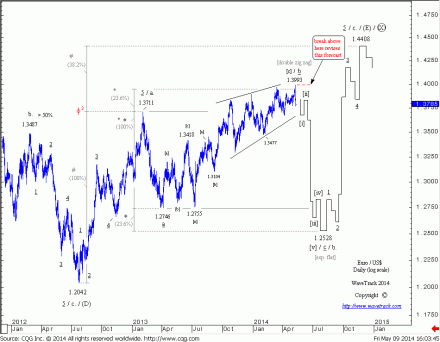 The decline from the May '14 high of 1.3993 must unfold into a five wave sequence that is not yet visible, suggesting the the final panic selling is yet to come!
by m.tamosauskas| September 12, 2014 | No Comments
In recent updates, the McDonald's Corp. was described as unfolding into an expanding flat pattern that requires a lower low below 92.22 with ideal downside targets measured towards 90.65-90.58 (published on July 25, 2014):
'The recent acceleration to the downside suggests the prolongation of the counter-trend decline that began from the April '13 high of 103.70 whilst unfolding into an expanding flat pattern, labelled a-b-c- in minute degree with ultimate downside targets measured towards 90.65-58.
Once these downside targets have been tested, await a reversal signature to confirm the resumption of the larger uptrend with targets to new all-time highs.'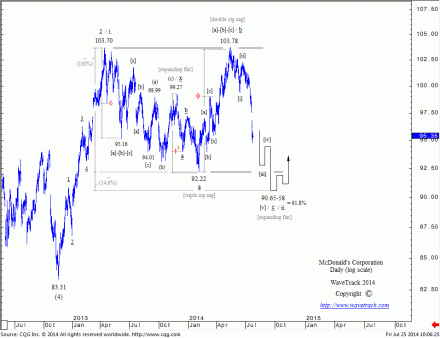 Well, this week the downside objectives were met at 90.53 and was followed by an immediate response to the upside: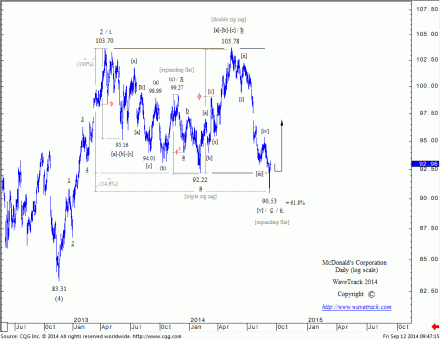 This is a good example that even in oversold broader market like U.S., we can always find stocks that offer good risk/reward ratio and huge upside potential.  It is worth quating the legendary trader Jones Paul Tudor: 'I look for opportunities with tremendously skewed reward-risk opportunities. Don't ever let them get into your pocket – that means there's no reason to leverage substantially. There's no reason to take substantial amounts of financial risk ever, because you should always be able to find something where you can skew the reward risk relationship so greatly in your favor that you can take a variety of small investments with great reward risk opportunities that should give you minimum draw down pain and maximum upside opportunities.' It is not a secret that he was a big Elliott Wave enthusiast! And this theory is capable to spot such a trade setups.
This might the one!
by m.tamosauskas| September 10, 2014 | No Comments
S&P 500 is topping. Yes, there are little doubts about that, the only question left is do we have one more additional upswing prior to staging the big decline or not? Last week we showed deteriorating weekly market internals, today we focus on the daily chart. Basis our preferential Elliott Wave count, the advance that began from the June '12 low of 1266.74 is labelled as intermediate wave (3), subdividing i.-ii.-iii.-iv.-v. in minor degree. This five wave expanding-impulse pattern is obviously mature, so the risk/reward ratio is definitely in favour to the downside: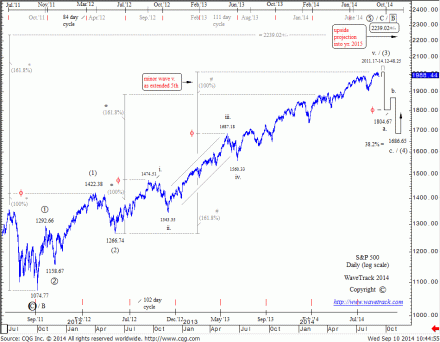 The following two charts, prepared by our team analyst who is tracking momentum studies, shows the Dow Jones Industrial is on the verge issuing a SELL signal: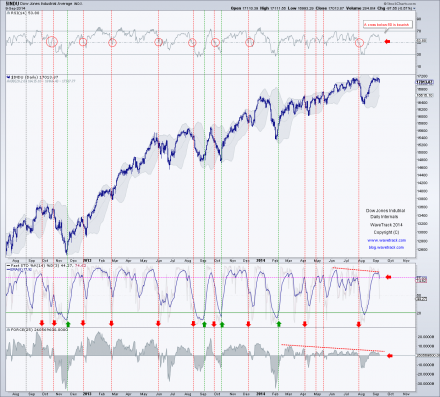 Notable development on S&P 500 Bullish % index – first, huge negative divergence between the index and the S&P 500 and second, watch the modified RSI reading -  a break below  its 21 EMA would issue a SELL signal also, which has been reliable in many cases:
Just a reminder, the latest market commentary (updated twice a week and absolutely for free) including all asset classes can be found in front of our main website: https://www.wavetrack.com/
(Intraday price development is updated twice per week via EW-Compass report, contact us if you would like to see an example: link)
by m.tamosauskas| September 3, 2014 | No Comments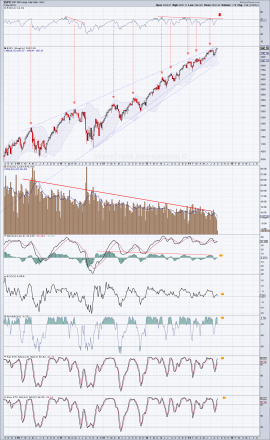 The long-term momentum study of S&P 500 index shows deteriorating market internals in almost all over the place.  The highest RSI reading was recorded last year in May and since when it is diverging with a rising S&P 500 index. To keep this diverging pace RSI must stay below 72.53 (the last reading peak). Next noticeable thing is a decreasing volume during the entire bull-run. A ten week moving average has been plotted to a better understanding what is going on. Lesser and lesser market participation in this game and rules don't change for an extended period. Finally, the recent S&P 500 pullbacks have become smaller and smaller that produced a wedge shape formation. It is extremely difficult to project the ending point of this pattern but once it's completed, one can be sure – a swift move down is the highest probability. Basis the projection in our latest EW-Compass reports, the ending point is close and the following decline is expected to be deep. Until it resolves, the trend is up and the only thing you can help yourself is controlling the risk of your portfolio.
by m.tamosauskas| August 27, 2014 | No Comments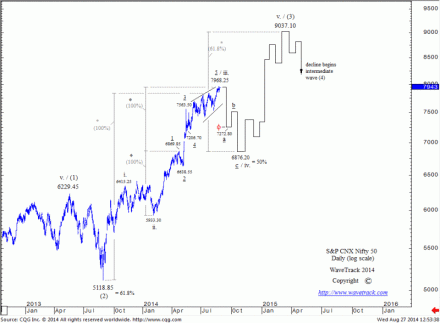 The Nifty 50 has now achieved original upside targets at 7954.00+/- with Monday's high of 7968.25. A reversal is necessary to confirm the completion of minor wave iii.'s advance from the Feb.'14 low of 5933.30 and validate a 4th wave counter-trend decline in the months ahead. Basis a fib. 50% retracement ratio, idealised support is measured to 6867.30 – cutting this by a fib. 61.8% ratio, we obtain interim targets to 7272.80. Seen from the larger perspective, intermediate wave (3) that dates back to the 2013 low of 5118.85 is still in progress. Thus, once idealised downside has been achieved in the months ahead, a finalising upswing towards ultimate upside at 9037.10 is forecast afterwards.
keep looking »