by WaveTrack International| July 14, 2023 | No Comments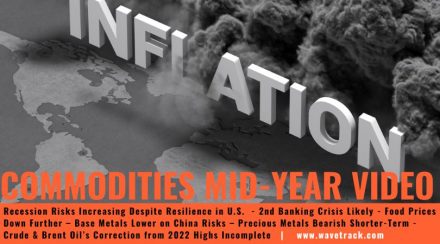 We're pleased to announce the publication of WaveTrack's annual Triple Video Mid-Year Update 2023 of medium-term ELLIOTT WAVE price-forecasts. Today's release is PART II, COMMODITIES – Part I was released last month and Part III will be published in late-July / beginning of August 2023…
• PART I – STOCK INDICES – out now!
• PART II – COMMODITIES – out now!
• PART III – CURRENCIES & INTEREST RATES – coming soon!
Now, let's look at some of the Commodities Mid-Year Video Highlights that are crucial to know during this economic timeline…
Commodities Mid-Year Video Highlights 2023!
Central Banks Tightening Policies Risking Global Economy
Recession Risks Increasing Despite Resilience in U.S.
Europe and China in Downturn
2nd Banking Crisis Likely
Stronger US$ Headwinds in H2
Commodity vs. Equity Valuations Low Limits Downside
Food Prices Down Further
Base Metals Lower on China Risks
Precious Metals Bullish Medium-Term, Bearish Shorter-Term
Silver to Outperform Gold Medium-Term, Platinum to Outperform Silver
Palladium to Outperform Platinum
Rare Earth Metals Approaching Important Lows
Crude & Brent Oil's Correction from 2022 Highs Incomplete – Medium-Term Bullish
RBOB Gasoline Heading Lower
Natural Gas Hits Bottom along with Europe's TTF Gas
Downside Pressures for XLE and XOP
What WaveTrack's is covering in its Commodities Mid-Year Video Update 2023
Commodities are set to continue 2022's decline during the remaining period of 2023 and perhaps into Q1 2024. H1 '23 gains are corrective with significant downside risk ahead. Central Banks are fighting a credibility battle having begun their monetary tightening and interest rate hiking cycle too late.
And now, in this late period of the cycle, CB's are in danger of overreacting, continuing tighter policies through Q3 whilst triggering a recession. However, Commodities are amongst other risk assets decline, although in some areas like Base Metal Miners, outperformance in this next declines offers some defensive protection.
Inflation-Pop cycle spanning two decades from financial-crisis lows remains in upward trajectory although taking a pause since interim highs of 2022. Base Metals, Precious Metals and Energy undergoing corrective downswings during next several months with lows late-2023 or extending into Q1 '24. FAO food prices continuing declines from April 2022 highs but as 4th wave correction. CRB index heading lower.
US$ dollar index's long-term 16.25-year cycle in downtrend, but dollar strength expected soon, beginning a counter-trend upswing from 99.66-54+/- (currently 102.92) targeting 111.20+/- during next several months as safe-haven buying triggered due to declining commodity prices and other risk assets.
Base Metals
This Mid-Year video update will feature Copper, Aluminium, Lead, Zinc, Nickel and Tin.
WaveTrack is forecasting that Copper is set to continue lower in H2 despite as final stage of corrective 4th wave downswing that began from the May '21 high. Targets towards 5870+/-.
Aluminium continuing corrective primary wave B decline during next several months towards 1627+/-. Lead declining as intermediate wave (2) towards 1680+/-. Zinc approaching earlier downside target of 1983+/-. Nickel resuming primary wave X decline towards 14050+/- and Tin declining as intermediate wave (X) towards 18800+/-.
Base Metal Miners – Outperformers?
WaveTrack believes that Base Metal Miners are set for outperformance during underlying base metal decline during next several months.
However, XME Metals & Mining index underperforms as primary wave X, continuing correction from April '22 high towards 28.98+/-.
In more detail WaveTrack will be highlighting if BHP is outperforming with perhaps limited downside towards 51.61+/-.
Yet, Antofagasta is expected to hold above current levels. Whilst Anglo American shows a downside risk of -24%. Even more risk for Freeport McMoran with a possible downside of -39%. Glencore's 4th wave correction towards 336.00+/- (459.50), -26%. Rio Tinto's 2nd wave correction lower, towards 4109.00+/-, down by -19%. Vale performance is not yet decided. It might be bullish above 11.71, and bearish below this level.
Strategic Metals
In this section we've included Iron Ore in this section even though it's officially not a strategic metal. Iron Ore in 5th wave uptrend from Oct.'22 low of 80.00 but engaged in shorter-term corrective downswing.
WaveTrack will focus on covering Uranium, Global X Uranium (URA), Northshore (URNM), VanEck Rare Earth (ETF) and last but not least MP Materials (Rare Earth) Corp.
Futhermore, WaveTrack will cover Precious Metals, Precious Metal Miners and Energy – please review the table of content below for the complete overview of all the chart you get access to!
What makes WaveTrack's Elliott Wave Forecasts successful?
Peter Goodburn, the founder of WaveTrack International has developed a unique combination of the Elliott Wave theory and Fibonacci price ratios to provide traders with a powerful tool set for analyzing the market. The Elliott Wave theory helps to identify the general trend of the market, while Fibonacci ratios pinpoint key areas of support and resistance.
Whilst our long-term clients are familiar with this approach, we like to go into it in a bit more detail for newcomers. For example, if a market is in an uptrend, traders can use the Elliott Wave theory to identify the five-wave pattern. Once the fifth wave is complete, traders can use Fibonacci ratios to identify key support levels for the market, where there is a high probability of a price reversal. These levels are known as retracements and are typically found at 23.6%, 38.2%, 50%, and 61.8% of the movement of the trend.
The unique combination of the Elliott Wave theory and Fibonacci price ratios is a powerful trading strategy that can help traders improve their trading performance. While this method may require some practice, once mastered, traders can leverage this strategy to make better-informed trading decisions and ultimately increase their profitability. Review this magical Fibonacci-Price Example featured here. Our bi-annual Video Series focus on medium- to longer-term trends and have the unique advantage that you will hear Peter Goodburn's explanations. These insights are priceless for any trader using Elliott Wave and intending to improve his trading performance.
Commodities Mid-Year Video Update 2023
This video is Part II and we'll be taking a look at over 90 individual commodity contracts and cycles within three main sub-sectors, Base Metals, Precious Metals, Precious and Base Metal Miners and Energy.
Whether you're an experienced trader or just starting out, the Mid-Year Commodities Video report can help you make better trading decisions. It provides a clear and concise overview of market conditions and trends, allowing you to identify opportunities for profit and manage risk effectively.
So why wait? Invest in your trading success today. Join a bespoke group of traders who rely on WaveTrack International's technical analysis expertise to navigate the markets and achieve their financial goals.
This is WaveTrack's state of the art video –only available twice a year– if you are trading commodities this is a must have.
Sincerely,
Peter Goodburn & EW-team
Commodities Mid-Year Video Outlook 2023 Part II/III
Contents: 95 charts
Time: nearly 2 hours
• US M2 Money Supply
• US Loan Book
• US Annual Balance Sheet change
• US Deposit Outflows
• Banks Tightening Credit in Eurozone
• Food and Agriculture Index
• DB PowerShares Agriculture Fund
• US Dollar index + Cycles
• CRB-Cash index + Cycles
• US CPI Food and Energy
• Copper + Cycles
• Aluminium
• Lead
• Zinc
• Nickel
• Tin
• Iron Ore
• Uranium
• Rare Earths
• MP Materials Corp
• BHP-Billiton
• Freeport McMoran
• Antofagasta
• Anglo American
• Glencore
• Rio Tinto
• Vale
• Gold
• Gold-Silver Ratio
• Silver
• Platinum/Silver Ratio
• Platinum
• Palladium/Gold Ratio
• Palladium/Platinum Ratio
• Palladium
• GDX Gold Miners Index
• Newmont Mining
• Amer Barrick Gold
• Agnico Eagle Mines
• AngloGold Ashanti
• XAU Gold/Silver Index
• Fresnillo Silver
• Crude Oil + Cycles
• Brent Oil
• Gasoline RBOB
• Natural Gas
• TTF Natural Gas
• XLE Energy SPDR
• XOP Oil and Gas Index
How can you purchase the video?
1. Contact us @ services@wavetrack.com and ask for a PayPal payment link (please state if you like to purchase the Commodities Single video for USD 49.00 + VAT* or the Triple Video for USD 99.00 +VAT*?).
2. Additionally, we now offer as well payment via credit card payment link
Each video runs for at least up to 2 hours and it's packed with SPECIFIC Elliott Wave price-forecasts (the Stock Indices Video is 2 hour 11 mins long!).
*(additional VAT may be added depending on your country – currently US, Canada, Asia have no added VAT but most European countries do)
We're sure you'll reap the benefits – don't forget to contact us with any Elliott Wave questions – Peter is always keen to hear you views, queries and comments.
Visit us @ www.wavetrack.com
We're sure you'll reap the benefits. Don't forget to contact us with any Elliott Wave questions. Our EW-team is always keen to hear your views, queries, and comments.
Visit us @ www.wavetrack.com
Category:
Agnico Eagle Mines
,
AngloGold Ashanti
,
Base Metals
,
Commodities
,
Copper
,
CRB
,
Crude oil
,
Cycles
,
Elliott Wave
,
Fibonacci Trading
,
GDX
,
Gold
,
Gold Mining
,
Mines
,
Mining
,
Palladium
,
Platinum
,
Precious Metals
,
Uncategorized
,
video
,
XOP
,
Zinc
Comments