by WaveTrack International| August 14, 2023 | No Comments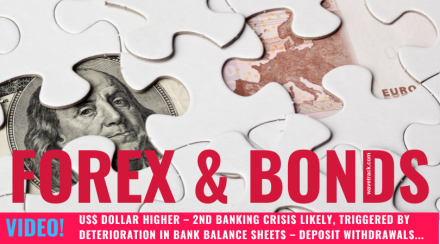 We're pleased to announce the publication of WaveTrack's annual Triple Video Mid-Year Update 2023 of medium-term ELLIOTT WAVE price-forecasts. Today's release is PART III, CURRENCIES and INTEREST RATES.
• PART I – STOCK INDICES – out now!
• PART II – COMMODITIES – out now!
• PART III – CURRENCIES & INTEREST RATES – out now!
Now, let's look at some of the Currencies and Interest Rates Mid-Year Video Highlights that are crucial to know during this economic timeline…
Highlights
Systemic Financial Credit Risk
Persistently High Interest Rates from CB's Knocks Global Economies into Recession
Drives Risk-Assets Lower, US$ Dollar Higher
2nd Banking Crisis Likely, Triggered by Deterioration in Bank Balance Sheets
Deposit Withdrawals
Inflationary Pressures Cooling
Credit Crunch Triggered by Commercial Real Estate Meltdown
US$ Dollar Index Higher to 109.14+/- gain of +7.5%
Euro/US$ Down to 1.0208+/- Safe-Haven Currencies in Vogue
US$ Dollar, Swiss Franc but Yen is Strongest
Overturns Carry-Trade
Credit-Crunch Causes Treasury & Bund Yields to Spike Higher
Completes Five Wave Impulse Uptrends from All-Time-Lows
Yields then begin Corrective Downturn
Yield Curve Reverses Inversion
Begins Steepening once Yields have Peaked
Bank of Japan to Tweak YCC establishing Uptrend for JGB Yields
INCLUDES ANALYSIS ON MAJOR US$ DOLLAR PAIRS/CROSSES
Currencies and Interest Rates Preview
Central Banks' Interest Rates?
Despite lingering concerns about Central Banks' persistent interest rate levels, we've got you covered. Our cutting-edge Elliott Wave forecasts will help you navigate the challenging landscape, even as CPI inflation takes a dip from last year's highs.
G10 Currency Trends Unveiled
Get ready for a shift in G10 currency pairs over the upcoming months…
Yen and Swiss Franc Shine: Amidst the changes, the Yen and Swiss Franc might emerge as safer havens compared to the dollar.
🇪🇺🇺🇸 Euro/US$ Decline: The Euro/US$ pair is expected to weaken from its high at 1.1277 in July, targeting downside levels around 1.0208+/-.
🇬🇧🇺🇸 Stlg/US$ Journey: Brace for a decline in Stlg/US$ from 1.3143, with a target of 1.1662+/-.
🇺🇸🇳🇴 US$/NOK Reversal: Watch for a turnaround in the US$/NOK pair, climbing from its low of 9.9245 in July and aiming for 11.4022+/-.
G10 Currency Crosses Dynamics
🇪🇺🇬🇧 Euro/GBP Dip: Euro/GBP is continuing its decline from July's high at 0.8702, aiming for 0.8309+/-.
🇪🇺🇨🇭 Euro/CHF Direction: Euro/CHF is projected to move lower, heading towards 0.8850+/-.
🇪🇺🇯🇵 Euro/Yen Patterns: Euro/Yen completes an upswing, but get ready for a downward trend in the coming weeks and months, reflecting Yen strength.
🇪🇺🇨🇳 Euro/CNY Movement: Euro/CNY's corrective upswing from July '22 to July '23 is evident, marking a change in direction…
Review all the contracts WaveTrack covers in this extraordinary Elliott Wave forecasting masterpiece published only twice a year. Stay informed and empowered in the ever-evolving financial landscape.
Ready to unlock a whole new dimension of financial insights? 📈 We're thrilled to invite you to the next chapter of our financial journey through an exciting video experience.
What Awaits You?
In-depth analyses of market trends.
Expert predictions and strategies.
Actionable tips to elevate your financial game.
Get ready to gain a fresh perspective, delivered right to your screen. Prepare for enlightening discussions, visual breakdowns, and the latest market insights based on Elliott Wave, Fibonacci-Price Ratio's and Cycle work – all in one place.
Most sincerely,
Peter Goodburn
Founder and Chief Elliott Wave Analyst
WaveTrack International
What you get
Contents: 147 charts | VIDEO DURATION: nearly 2 hours 54 mins.
The contents of this CURRENCIES & INTEREST RATES VIDEO include Elliott Wave analysis for:
Forex (94 charts):
• US Deposit Outflows
• US Bank Annual Balance Sheet Changes
• US$ Index + Cycles
• USD COT
• Euro/US$
• Stlg/US$
• US$/Yen
• US$/CHF
• US$/NOK
• US$/SEK
• AUD/US$
• US$/CAD
• NZD/US$
• Euro/Stlg
• Euro/CHF
• Euro/Yen
• Euro/CNY Renminbi
• Stlg/YEN
• Stlg/ZAR
• AUD/YEN
• AUD/CNY Renminbi
• AUD/NZD
• USD/BRL
• USD/RUB
• US$/ZAR
• US$/MXN
• US$/TRY
• US$/ARS
• US$/PLZ
• Asian ADXY
• US$/Renminbi
• US$/KRW
• US$/SGD
• US$/INR
• US$/TWD
• USD/THB
• US$/MYR
• US$/IDR
• US$/PHP
• Bitcoin
• Ethereum
Interest Rates (53 charts):
• US10yr Real Yield
• US30yr Yield + Cycles
• US10yr Yield + Cycles
• US5yr Yield
• US2yr Yield
• US2yr-10yr Yield Spread
• US10yr-30yr Yield Spread
• 3mth EuroDollar-US10yr Yield Spread
• Comparison US10-DE10yr vs S&P 500
• US10yr TIPS Break Even Inflation Rate
• US10-DE10yr Yield Spread
• DE10yr Yield
• UK10yr Yield
• ITY10yr Yield
• Italy10-DE10yr Yield Spread
• Australia 10yr Yield
• Japan 10yr Yield
How to buy the Forex + Bonds Video Outlook 2023
Simply contact us @ services@wavetrack.com to buy the CURRENCIES + INTEREST RATES Mid-Year Video Update 2023 for USD 49.00 (+ VAT where applicable) or alternatively our Triple Video Offer for USD 99.00 (+ VAT where applicable) – Review the content of WaveTrack Stock Indices Video PART I here and the Commodities Video PART II here.
Please state your payment preference in the order email – we offer PayPal or a secure Credit Card payment link! Many thanks.
Each video runs for at least up to 2 hours and it's packed with SPECIFIC Elliott Wave price-forecasts (the Stock Indices Video is 2 hour 10 mins long!).
*(additional VAT may be added depending on your country – currently US, Canada, Asia have no added VAT but most European countries do)
We're sure you'll reap the benefits – don't forget to contact us with any Elliott Wave questions – Peter is always keen to hear you views, queries and comments.
Visit us @ www.wavetrack.com
Category:
ADXY Index
,
AUD vs USD
,
AUDUSD
,
Bitcoin
,
central banks
,
CryptoCurrency
,
Currencies
,
Cycles
,
Elliott Wave
,
EUR vs CHF
,
EUR/USD
,
Euro / US$
,
EURUSD
,
Fibonacci-Price-Ratio
,
Financial Forecasting
,
Fixed Income
,
forex
,
FX
,
GBP/AUD
,
GBP/USD
,
Interest Rates
,
STLG/AUD
,
Stlg/US$
,
STLG/USD
,
STLG/YEN
,
STLG/ZAR
,
Uncategorized
,
US Dollar Index (DXY) (USDX)
,
US$ Index
,
US-Dollar Index
,
US10yrYields
,
USD
,
USD/ARS
,
USD/CNY
,
USD/IDR
,
USD/INR
,
USD/MXN
,
USD/SGD
,
USD/THB
,
USD/YEN
,
USD/ZAR
,
video
Comments