by WaveTrack International| August 12, 2022 | No Comments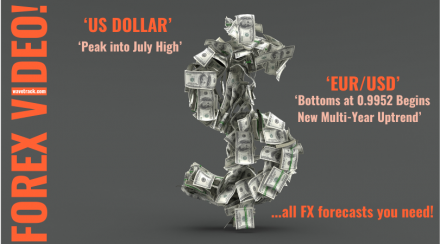 Forex + Bonds Mid-Year Video 2022 | PART III/III
INCLUDES ANALYSIS ON MAJOR US$ DOLLAR PAIRS/CROSSES – ASIAN/EM CURRENCIES – MEDIUM-TERM CYCLES – LONG-DATED YIELDS US/EUROPE/ITALY/AUSTRALIA/JAPAN + MANY SPREADS
Forex + Bonds Highlights
US$ Dollar Peak into July High
16.25 Year Cycle Downtrend in Progress
Euro/US$ Bottoms at 0.9952 Begins New Multi-Year Uptrend
G10 Currency Pairs set for Multi-Year Advances on US$ Dollar Weakness
Asian (ADXY) Dollar Index Finishes Downward Correction Resuming Long-Term Uptrend
Inflation Gauges Forming Interim Peak although 2-Months Lag Behind Interest Rates
US10yr Yield Trending Higher following June's Correction
European DE10yr Bund Yield Completes June Correction Resuming Uptrend
Yield Inversion Approaching Completion
Forecast Preview – H2 2022
Rising Inflationary Pressures. Central Banks (CB's) have been wrong-footed by rising inflation this year with the Federal Reserve only last December, realising rising costs were not 'transitory' but 'persistent' instead. The delay in responding quickly to rising inflationary pressures has caused a significant jump higher in CPI levels as years of suppressing interest rate rises during a time of asset price recovery has triggered market normalisation in its natural function.
History repeats! – Paul Volker failed to respond early to rapid price increases during the 1970's once the gold standard was replaced with a fiat monetary system. Again, normal market mechanisms were suppressed resulting in a surge in inflation. Now we see the same 'catch-up' scenario by the Federal Reserve and other central banks from around the world.
U.S. inflation is running at around 9.1% per cent – Europe at 8.1% per cent – by contrast, China at 2.4% per cent and Japan at 2.0% per cent – see fig #217. Get all Forex + Bond insights in our latest video including PDF with all charts!
G10 Forex
With a US$ dollar peak in July at 109.29, almost all other G10 dollar currency pairs are inversely forming major lows and are set for multi-year gains.
The Euro/US$ has featured this year with declines of -13% per cent and -19% per cent from the Jan.'21 high of 1.2350 into July's low of 0.9952 although ending the final sequence of its intermediate-term corrective downswing from the pre-financial-crisis-high of 1.6040 as cycle wave B – see fig #228. It's taken exactly 14 years to complete cycle wave B's correction but its now opening the way for a new multi-year uptrend as cycle wave C where targets are towards min. 1.9024+/- to max. 2.0699+/-.
AUD vs. USD – Forex Forecast Mid-Year Video Preview
AUD/US$'s medium-term outlook remains very bullish with a primary degree A-B-C zig zag pattern in advance from the April '01 low of 0.4776. Primary wave C's advance began from the pandemic low of 0.5507 with intermediate wave (1) ending at 0.8008 in Feb.'21. The trend now resumes to the upside. Ultimate targets over the next several years remain towards 1.5287+/-. See fig's #249-251.
Watch the complete explanation for the AUD vs. USD forecast with Monthly chart in our latest Elliott Wave Video Mid-Year forecast.
Be Prepared!
Our EW-team worked hard to put this information together in a way that is comprehensive to ensure that you are prepared for the major Forex moves to come in 2022 and beyond. Check out the table of contents below and if you are trading Currencies – don't miss it!
We invite you to take this next step in our financial journey with us – video subscription details are below – just follow the links and we'll see you soon!
Most sincerely,
Peter Goodburn
Founder and Chief Elliott Wave Analyst
WaveTrack International
What you get
Contents: 139 charts | VIDEO DURATION: nearly 3 hours 7 mins.
The contents of this CURRENCIES & INTEREST RATES VIDEO include Elliott Wave analysis for:
Forex (91 charts):
• US$ Index + Cycles
• Euro/US$ + Cycles
• Stlg/US$
• US$/Yen
• US$/CHF
• US$/NOK
• US$/SEK
• AUD/US$
• US$/CAD
• NZD/US$
• Euro/Stlg
• Euro/Yen
• Euro/CNY
• Stlg/YEN
• Stlg/AUD
• Stlg/ZAR
• AUD/YEN
• AUD/Renminbi
• AUD/NZD
• Asian ADXY
• US$/Renminbi
• US$/KRW
• US$/SGD
• US$/INR
• US$/TWD
• USD/THB
• US$/MYR
• US$/IDR
• US$/PHP
• USD/BRL
• USD/RUB
• US$/ZAR
• US$/MXN
• US$/TRY
• Bitcoin
• Ethereum
Interest Rates (48 charts):
• US CPI
• US10yr Real Yield
• US30yr Yield + Cycles
• US10yr Yield + Cycles
• US5yr Yield
• US2yr Yield
• US2yr-10yr Yield Spread
• US10yr-30yr Yield Spread
• 3mth EuroDollar-US10yr Yield Spread
• Comparison US10-DE10yr vs S&P 500
• US10yr TIPS Break Even Inflation Rate
• US10-DE10yr Yield Spread
• DE10yr Yield
• ITY10yr Yield
• Italy10-DE10yr Yield Spread
• Australia 10yr Yield
• Japan 10yr Yield
How to buy the Forex + Bonds Mid-Year Video Update 2022
Simply contact us @ services@wavetrack.com to buy the CURRENCIES + INTEREST RATES Mid-Year Video Update 2022 for USD 48.00 (+ VAT where applicable) or alternatively our Triple Video Offer for USD 96.00 (+ VAT where applicable) – Review the content of WaveTrack Stock Indices Video PART I here and the Commodities Video PART II here.
Each video runs for at least up to 2 hours and it's packed with SPECIFIC Elliott Wave price-forecasts (the Stock Indices Video is 2 hour 10 mins long!).
*(additional VAT may be added depending on your country – currently US, Canada, Asia have no added VAT but most European countries do)
We're sure you'll reap the benefits – don't forget to contact us with any Elliott Wave questions – Peter is always keen to hear you views, queries and comments.
Visit us @ www.wavetrack.com
Category:
Currencies
,
Cycles
,
Elliott Wave
,
EUR/USD
,
Euro / US$
,
EURUSD
,
forex
,
FX
,
Interest Rates
,
MID-YEAR VIDEO UPDATE!
,
Stlg/US$
,
STLG/USD
,
trading
,
US Dollar Index (DXY) (USDX)
,
US10yrYields
,
USD
,
USD/IDR
Comments