by WaveTrack International| July 13, 2022 | No Comments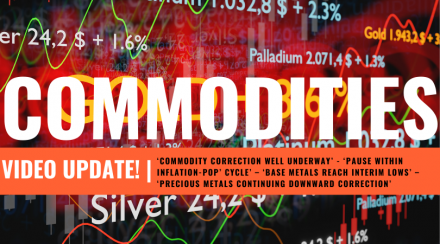 'COMMODITIES CORRECTION WELL UNDERWAY' – 'PAUSE WITHIN INFLATION-POP' CYCLE' – 'BASE METALS REACH INTERIM LOWS' – 'PRECIOUS METALS CONTINUING DOWNWARD CORRECTION' – 'ENERGY, CRUDE/BRENT OIL BEARISH'
We're pleased to announce the publication of WaveTrack's Mid-Year Video Update of medium-term ELLIOTT WAVE price-forecasts. Today's release is PART II, COMMODITIES – Part I was released last month and Part III will be published in late-July / beginning of August 2022…
• PART I – STOCK INDICES – out now!
• PART II – COMMODITIES – out now!
• PART III – CURRENCIES & INTEREST RATES – coming soon!
Commodities Forecast Highlights
This year's bearish forecasts for commodities are in full swing but there are correlation disparities between sectors and other asset classes which is causing confusion amongst investors.
Copper is down almost -30% per cent and only now testing original targets
Crude oil is down -21% although has been -28% per cent last March
Gold is down -14% per cent whilst key industry miners are down around -35% per cent
Commodities Outperformers
The outperformers are generally those in the Energy industry with equities in this sector only beginning to decline from June peaks, several months later than in Base/Precious metals.
Commodities Expected Underperformers
Energy is expected to underperform for the remainder of this year as it attempts to catch up in its corrective decline.
Commodities Super-Cycle
The Commodity Super-Cycle beginning from the Great Depression lows of year-1932 ended in 2006-08. Since then, a multi-decennial corrective downswing has begun a new deflationary era but with pockets of rising inflationary pressures.
One of those pockets of rising inflationary pressures resumed in early 2016 but gained momentum in 2021 resulting in huge rises since, into this year's current levels over 8% per cent. A pause in this uptrend of inflation is expected to begin now. Expected to last into year-end. And perhaps Q1 2023 but resuming higher again afterwards resulting in a final peak due in 2023/24, latest 2025 – this is the final phase of the 'Inflation-Pop' cycle.
CRB Cash Index – Commodities Indicator
The completion of the super-cycle uptrend in July '08 opens the door to a multi-decennial correction which ultimately demands prices return back towards 'fourth wave preceding degree' basis R.N. Elliott's original tenet.
This CRB Cash Index forecast unfolding into a cycle degree expanding flat pattern, A-B-C where the initial downswing as cycle wave A unfolds into a smaller expanding flat, ending into the COVID-19 low of 316.67 last March 2020. Cycle wave B is now engaged in a multi-year rally targeting the fib. 38.2% extension ratio at 787.00+/-. Once completed, the final stage of an expanding flat pattern can develop, shown here as a five wave expanding-impulse. Extending cycle A by a fib. 61.8% ratio ultimately projects a terminal low for the zig zag towards 216.43+/-. Latest: The data for this index are not available any more, it discontinued by the end of January '21. We keep this chart for the past price development. See Fig #1
Commodities – Themes of the Video
This video is Part II and we'll be taking a look at over 117 individual commodity contracts and cycles within three main sub-sectors, Base Metals, Precious Metals and Energy.
The central themes we'll be discussing in this video include how rising inflationary pressures have gripped most parts of the world. Moreover, how central banks are responding with revised monetary policies and what impact this is having on commodities?
We'll begin by taking a look at the very long-term commodity cycle from the Great Depression lows into major peaks during the last decade – and how that began the 'inflation-pop' cycle, a term we conceived back in 2011 to describe the up-coming inflation surge which has now become a reality. And much more…
This is WaveTrack's state of the art video -only available twice a year- if you are trading commodities this is a must have.
Sincerely,
Peter Goodburn & EW-team
Commodities Video Part II
Contents: 117 charts
Time: 2 hours 47 mins.
• CRB-Cash index + Cycles
• US 30yr Corporate Bond Yield Cycle
• US CPI
• US 10yr TIPS Break Even Inflation Rate
• Food and Agriculture Index
• DB PowerShares Agriculture Fund
• US Dollar index + Cycles
• Copper + Cycles
• Aluminium
• Lead
• Zinc
• Nickel
• Tin
• Iron Ore
• Uranium
• Rare Earths
• XME Metals & Mining Index
• BHP-Billiton
• Freeport McMoran
• OZ Limited Copper
• Antofagasta
• Anglo American
• Glencore
• Rio Tinto
• Teck Resources
• Vale
• Fortescue Metals (Iron Ore)
• Metals X (Tin)
• Gold
• Gold-Silver Ratio
• Silver
• Platinum/Silver Ratio
• Platinum
• Palladium/Platinum Ratio
• Palladium
• GDX Gold Miners Index
• Newmont Mining
• Amer Barrick Gold
• Agnico Eagle Mines
• AngloGold Ashanti
• XAU Gold/Silver Index
• Fresnillo Silver
• Crude Oil + Cycles
• Brent Oil
• Gasoline RBOB
• Natural Gas
• UK NBP Natural Gas
• TTF Natural Gas
• XLE Energy SPDR
• XOP Oil and Gas Index
How can you purchase the video?
1. Contact us @ services@wavetrack.com and ask for a PayPal payment link (please state if you like to purchase the Commodities Single video or the Triple Video?).
2. Ask for an individual credit card payment link (in case you do not wish to pay via PayPal).
Each video runs for at least up to 2 hours and it's packed with SPECIFIC Elliott Wave price-forecasts (the Stock Indices Video is 2 hour 20 mins long!).
*(additional VAT may be added depending on your country – currently US, Canada, Asia have no added VAT but most European countries do)
We're sure you'll reap the benefits – don't forget to contact us with any Elliott Wave questions – Peter is always keen to hear you views, queries and comments.
Visit us @ www.wavetrack.com
We're sure you'll reap the benefits. Don't forget to contact us with any Elliott Wave questions. Our EW-team is always keen to hear your views, queries, and comments.
Visit us @ www.wavetrack.com
Category:
Agnico Eagle Mines
,
AngloGold Ashanti
,
Base Metals
,
Commodities
,
Copper
,
CRB
,
Crude oil
,
Cycles
,
Elliott Wave
,
Gold
,
Gold Mining
,
Mines
,
Mining
,
Palladium
,
Platinum
,
Precious Metals
,
Silver
,
trading
,
US Dollar Index (DXY) (USDX)
,
US$ Index
,
US-Dollar Index
,
Zinc
Comments