by WaveTrack International| March 6, 2023 | No Comments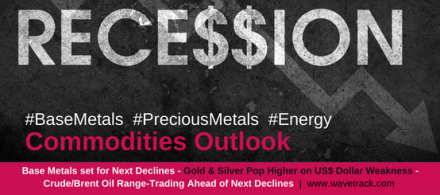 Main Drivers for Commodities are Inflation, Interest Rates and US$ Dollar
Inflation Resurgence following Dip
Central Banks Underestimate Persistent Price Rises in Food & Service Sector
Higher Rates for Longer
Recession Fears Diluted but Downside Risk of Short but Sharp Economic Downturn
China Reopening Expectations Fade
US$ Dollar Poised for Upside Correction but One More Decline First
Base Metals set for Next Declines
Gold & Silver Pop Higher on US$ Dollar Weakness
Crude/Brent Oil Range-Trading Ahead of Next Declines
Commodities – Main Drivers for Prices are…
The main drivers for commodity prices are inflation, interest rates, the US$ dollar and the impact of the reopening of China's economy.
Central Banks have slowed the pace of interest rate hikes during the last couple of months basis declines in U.S. CPI from last June's 9.10% peak – but a recent surge in U.S. employment numbers has shown that large corporations are managing the rise in interest rates far better than most expected.
Regardless, Elliott Wave analysis expects an uptick in CPI and inflation expectations over the next few months before it turns down again later this year.
Government bond yields are trending higher again, although this wasn't expected by consensus opinion earlier this year where a peak in inflation and a mild recession was mainstream – that's changing too – the Fed's mantra 'Higher Rates for Longer' is taking hold and this is one aspect that is expected to weigh heavily on Commodity Prices during the next several months.
The effects of a recession in western economies is not without risk – in fact, we're expecting a short but sharp recession this year – and that's despite the markets' expectation of a reopening of China's economy following three years of lockdown.
US$ Dollar
The US$ Dollar's extreme long-positioning towards the end of last year has been completely reversed over the last 5 months – if anything, there are early signs of it being oversold although there's a risk during March of one more decline before a multi-month upside correction begins. The dollar's movements are more critical for precious metals as this month's analysis shows.
CRB Index
The CRB Reuters-Jefferies index is set to continue its counter-trend decline that began from the June '22 high of 329.59 later this month, maybe delayed into early-April although a postponement is more reflected in the way energy contracts are continuing to range trade whilst precious metals begin their next advance.
Base Metals
Base Metals can benefit from a short-term dollar decline this month, but overall, are expected lower during the next several months, including Copper and Aluminium. Energy markets like Crude and Brent oil are in transitory correction patterns since December's lows – they can finish by month-end, but the direction is still lower, progressing last year's counter-trend declines that began from the March '22 highs.
Watch the latest amazing EW-Commodities video and get more insights about s trading opportunities in our latest EW-Commodities Outlook report and video update!
Category:
Agnico Eagle Mines
,
AngloGold Ashanti
,
Base Metals
,
Commodities
,
Copper
,
Crude oil
,
Elliott Wave
,
Gold
,
Mines
,
Mining
,
Palladium
,
Platinum
,
Precious Metals
,
Silver
,
XAU Gold/Silver Index
,
XOP
,
Zinc
Comments