by WaveTrack International| August 22, 2022 | No Comments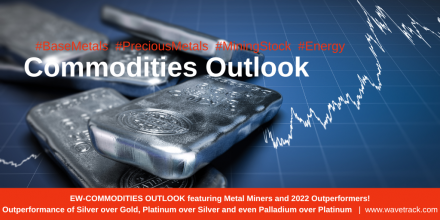 The ELLIOTT WAVE COMMODITIES OUTLOOK
September 2022 Report
Largest Commodities Risk-Off 2022!
The largest declines in this year's risk-off, inflation surge environment has been in Base and Precious Metals. Copper is down -35% per cent and Gold is down -18% per cent whilst Energy contracts like Crude Oil are down by -34% per cent from March's high.
Contrastingly, the benchmark S&P 500 was down -24% into June's low although recovering so much since. It's only down -10% per cent now. There's a definitive, positively-correlated link in the commodity markets where Copper, Gold and Crude oil all topped-out last March. There were notable lows in July for Copper and Gold too. Crude oil is still trading at this year's lows which breaks its correlation somewhat.
Overall, we expect to see further performance disparities going forward. Whilst inflationary pressures have been rising exponentially, it's highly unlikely that pace will continue at this juncture. A pause is more likely through to year-end, into Q1 2023.
Energy Commodities Crude Oil and Brent Oil
This is mainly due to the downside price potential in Energy markets. Crude/Brent oil completed five wave uptrends from the pandemic lows into March's highs and corrective declines so far represent only partial retracement levels.
Bank of America's latest Global Fund Manager's Survey shows the US$ dollar and long oil/commodities are the biggest positioning trades out there – see fig's #1 (Chart 12) and fig #2 (Chart 19) – good reason why there's still a lot of downside potential ahead.
Commodities Proxy Copper
Copper, a proxy for measuring the macro-economic twists and turns has reached original downside targets. However, exceeding them slightly which opens the door for more declines later this year but not before sizable counter-trend rallies finish sometime in September. This dove-tails with the more bearish stock market outlook we have for the remainder of this year. European indices are providing concise Elliott Wave pattern development. Now, showing how the current upside rallies from July's lows will end in September, then followed by some dramatic declines lasting through to year-end.
Commodities Bullish Signals
The most bullish news comes from the Precious Metals industry. Gold and Silver complete 2-year corrective downswings into July's lows and are already heading higher to begin new multi-year uptrends. Gains are expected to be underpinned by a weakening US$ dollar which itself has signalled an important peak into July's high.
Commodities Mid-Year Video Update 2022
The mid-year 2022 Commodities Outlook Report published last month highlighted the expected outperformance of Silver over Gold, Platinum over Silver and even Palladium over Platinum. This month's report confirms Platinum's correction that began from the Feb.'21 peak also ended in July with a very bullish outlook going forward.
Get more insights in our latest EW-Commodities Outlook report.
Category:
Agnico Eagle Mines
,
Base Metals
,
Commodities
,
Copper
,
Crude oil
,
Cycles
,
Elliott Wave
,
GDX
,
Gold
,
Mining
,
Platinum
,
Precious Metals
,
Silver
,
trading
,
XAU Gold/Silver Index
,
Zinc
Comments