by m.tamosauskas| October 18, 2013 | No Comments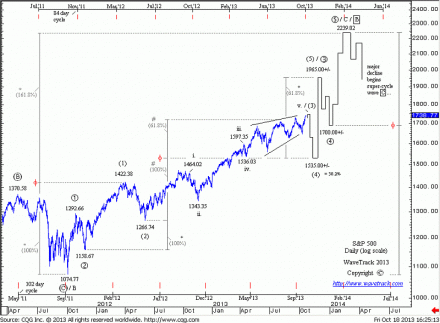 The S&P is now approaching ultimate upside objectives to 1740.00+/-. The probability of a reversal from there is deemed very high. An important indication is the price behaviour of European stocks which – formerly outperforming – have been showing signs of waning momentum for the last days. A reversal from 1740.00+/- would prompt a sustained decline in the months ahead, with ultimate downside measured to 1540.00+/-. Failure to reverse from 1740.00+/- could extend upside to the upper boundary line of the ending-diagonal that measures to 1750.00+/-.
Comments
Recent Posts
Recent Comments
Archives
Categories
About WTI
WaveTrack International is a financial price forecasting company dedicated to the Elliott Wave principle and work of the R.N. Elliott. Clients include Investment Banks, Pension Funds, Total/Absolute-Return/Hedge Funds, Sovereign Wealth Funds, Corporate and Market-Making/Trading institutions and informed individuals -- & just about anyone who is affected by directional price change.
WTI Links
Search