by m.tamosauskas| September 15, 2015 | No Comments
The 29th day of Elul that marks the conclusion of the Shemitah occurred last Sunday, on the 13th September – the first day of trading, Monday 14th got underway without incident – phew! Although our latest 'The Week Ahead' video expected it to be a non-event on the day, it may yet have repercussions as our attention now draws ever closer to Thursday's interest rate decision by the Federal Reserve in its latest FOMC meeting. The rate decision will be announced at 14:00 ET, that's 11:00 on the West coast, 15:00 S. America, 19:00 London, 20:00 Europe, 22:00 Middle East, 02:00 am (Friday) in Shanghai and 03:00 am Tokyo.
Eurodollar 3mth Futures
We thought to take a look at the US Eurodollar 3mth futures contract to gauge whether the Federal Reserve would surprise and leave rates on hold, or hike by +0.25% as consensus seems to be heading.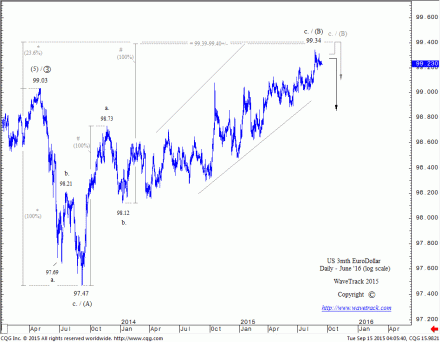 This first chart depicts the June '16 futures contract engaged in a three price-swing (wave) zig zag upswing from the Sep.'13 low of 97.47 – see fig #1. Each of the two advancing sequences measure equally to 99.39 – this is a common geometric recurrence for the zig zag pattern that increases the probability of correct identification. Note that the two upswings look different – this is because the first to 98.73 has unfolded into a five wave 'expanding-impulse' pattern whereas the second from 98.12 has taken the form of a five wave 'diagonal-impulse' pattern. This is known as 'pattern alternation' and is a typical function of the zig zag.
Another interesting fib-price-ratio exists – extending the preceding decline (May-September '13) from 99.03-97.47 by a fib. 23.6% ratio projects the zig zag upswing ending to 99.40+/-.
The current August high at 99.34 has come so close to these to calculations that it's enough to draw some conclusions – that the upside is limited – but also this – THERE IS AN INCREASING RISK THAT PRICES JERK SIGNIFICANTLY LOWER.
The larger picture is even more inspiring, but we have to leave something special for our subscribers. The bigger picture and its implications are now available to all our EW-Compass subscribers.
SPECIALEW-COMPASS REPORT OFFER by
www.wavetrack.com
Where can I download the Shemitah Report? Login/Subscribe to the EW-Compass report. A new window with the report will open – here click on any of the charts or 'View online report' and on the right side click on the tab 'Specials'! Here are various long-term reports ready for download.
Comments