by m.tamosauskas| April 9, 2014 | No Comments
The Russell 2000 index which is compiled of small capitalisation companies tends to lead the broader U.S. stock market – directionally upwards and downwards. Small companies are more sensitive to economic conditions and assume more risk than larger, more-established companies that make up the S&P 500. The relationship between the S&P 500 and the Russell 2000 has provided reliable guidance in the past in identifying early changes in market direction. This phenomenon is expected to remain constant in the future.
Last year, in 2013, the Russell 2000 was leading to the upside on two separate occasions by breaking first into new record highs whilst the S&P 500 was trading well below its previous highs. Ultimately, the S&P 500 caught up later and broke into new record highs proving that once again, the Russell 2000 was the leading index.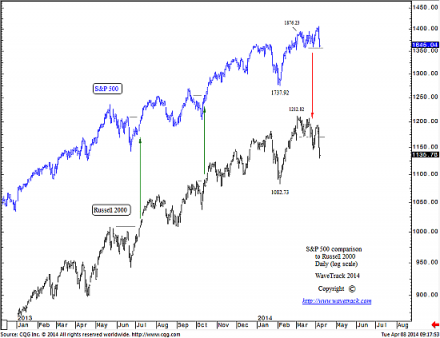 But so far, in early 2014, a different story is developing – the Russell now appears to be leading to the downside. Last week, whilst the Russell 2000 was trading well below its early March'14 high of 1212.82, the S&P index recorded yet another record high forming a bearish divergence. The Russell's decline is forming lower highs and lower lows confirming a downtrend in progress as the S&P stages a reversal signature demonstrating it preparedness in following its index counter-part lower.
In our latest EW-Compass reports, both the S&P 500 and the Russell 2000 were forewarned as completing advances that began from the June '12 lows. The negative divergence between these two indices and a subsequent reversal signature for the S&P last Friday has since confirmed a multi-month decline is underway.
We're really excited about this next decline because it will be the largest we've seen for almost two years – but this is still labelled as a counter-trend pattern. For the last several years, our 'inflation-pop' scenario has forecast upside price levels into new record highs – whilst this has been realised, the measured targets remain untested. Once the current counter-trend decline has reached downside targets, the larger advance is set to resume.
We'd like to invite you to join us in this next part of our journey of the 'inflation-pop' scenario by becoming a member of the EW-Compass community!
Comments