by WaveTrack International| December 22, 2017 | No Comments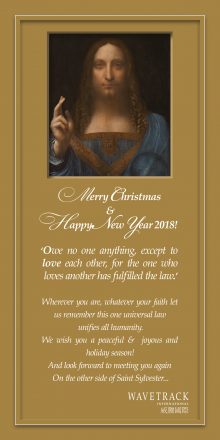 Merry Christmas
&
Happy New Year 2018!
'Owe no one anything, except to love each other, for the one who loves another has fulfilled the law.'
Wherever you are, whatever your faith let us remember this one universal law
unifies all humanity.
We wish you a peaceful & joyous and holiday season!
And look forward to meeting you again
On the other side of Saint Sylvester…
Peter and EW-Team
Comments
Recent Posts
Recent Comments
Archives
Categories
About WTI
WaveTrack International is a financial price forecasting company dedicated to the Elliott Wave principle and work of the R.N. Elliott. Clients include Investment Banks, Pension Funds, Total/Absolute-Return/Hedge Funds, Sovereign Wealth Funds, Corporate and Market-Making/Trading institutions and informed individuals -- & just about anyone who is affected by directional price change.
WTI Links
Search