by m.tamosauskas| January 24, 2014 | No Comments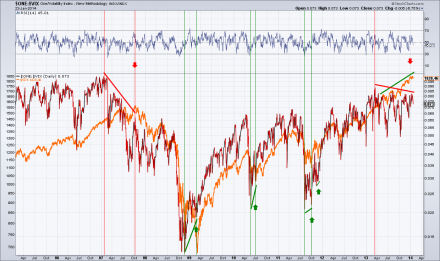 This chart is showing an updated correlation between S&P 500 and invertded VIX index. As can be seen the correlation is possitive and a negative divergence between these two creates a trend change event. The last negative divergence occoured in 2007. It took about one year to unfold but the SELL (S&P 500) signal proved to be right. Today we have very simmilar situation – a negative divergence is developing for about one year. However, S&P 500 is still in an uptrend since all the way back from 2012 there is no a single intermediate lower low. It needs to break below the December '13 low of 1767.99 to confirm the signal.
Comments
Recent Posts
Recent Comments
Archives
Categories
About WTI
WaveTrack International is a financial price forecasting company dedicated to the Elliott Wave principle and work of the R.N. Elliott. Clients include Investment Banks, Pension Funds, Total/Absolute-Return/Hedge Funds, Sovereign Wealth Funds, Corporate and Market-Making/Trading institutions and informed individuals -- & just about anyone who is affected by directional price change.
WTI Links
Search