by WaveTrack International| November 16, 2022 | No Comments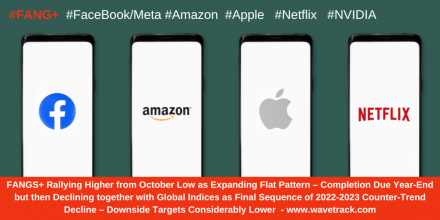 FANG+ Rallying Higher from October Low as Expanding Flat Pattern – Completion Due Year-End but then Declining together with Global Indices as Final Sequence of 2022-2023 Counter-Trend Decline – Downside Targets Considerably Lower
FANG+ Rallying Higher
This month's report updates several technology stocks which themselves are components of the FANG+ index. We've selected 6 FROM 10 components that best illustrate the varying divergences of trend. The analysis begins with a take on the pattern developing in the benchmark FANG+ index. And, then moving on to the equities – Amazon Inc., Apple Inc., Facebook/Meta Inc., Microsoft Corp., Netflix Inc. and finally NVIDIA Corp. See fig #1.
FANG+ Analysis from an Elliott Wave Persepective
From an Elliott Wave pattern perspective, we can order these equities into two groups. Those stocks that have already formed a major low and the second group which are set to continue this year's declines into Q1 2023.
The Fang+ index has lost Twitter since Elon Musk's takeover with Microsoft taking its place. The weighting is the same 10% for each equity, 10 in all equating to 100% per cent.
The Fang+ index is unfolding similarly to the Nasdaq 100 with some slight variation. Both are declining into a multi-year corrections that began from the Nov.'21 highs. These are developing into double zig zags, i.e. a-b-c-x-a-b-c – see fig #2. We already had a pretty good idea in December '21. Note, this is almost a year ago, that 2022 would see a severe downward correction in the technology sector because the post-pandemic advance into the Nov.'21 peaks unfolded into an a-b-c zig zags. Implying this was ending the 1st wave of an ending-type diagonal with the necessity of a deep 2nd wave correction to augment the ongoing pattern development of the diagonal. These zig zags were especially evident in the Nasdaq 100 and the XLK Technology indices.
And so, the FANG+'s corrective decline from the Nov.'21 high of 8077.01 completed the 1st wave of the diagonal with a double zig zag downswing declining since as a deep 2nd wave. That double zig zag remains incomplete. As a result, it forewarns of another big sell-off next year. However, during Q1 2023 but not before finishing the current counter-trend rally that began in October and due to finish in December, year-end.
FANG+ What about Apple, Microsoft and NVIDIA?
Equities that fall into this grouping where upside rallies continue until year-end but then decline rapidly during Q1 '23 are Apple Inc., Microsoft and NVIDIA. In contrast, the others are forming major lows right now. They are set to outperform over the next several months because they're unlikely to break below recent lows. This applies to Amazon Inc., Facebook/Meta and Netflix.
The latest Bank of America Fund Manager Survey shows the technology sector as the most underweight since 2006. We'd expect that extreme to neutralise a little with a push higher for technology into year-end. See fig #3.
Watch the latest amazing EW-Navigator video and get more insights about Technology Stocks trading opportunities US Stock Indices update!
Comments