by m.tamosauskas| October 19, 2015 | No Comments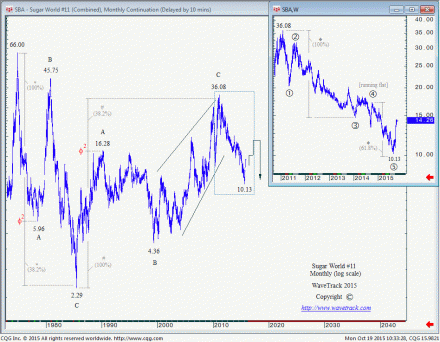 Sugar is getting more and more expensive! The decline that began from the Feb.'11 high of 36.08 has unfolded in to a five wave expanding-impulse pattern with completion into the recent low of 10.13, where the net decline of wave 1 to 3 and wave 5 contains a fib. 100%/61.8% correlation ratio. The following counter-trend advance has staged a plus +40% rally to the upside and basis our Elliott Wave analysis it does look incomplete. More expensive sugar in the months ahead?
Comments
Recent Posts
Recent Comments
Archives
Categories
About WTI
WaveTrack International is a financial price forecasting company dedicated to the Elliott Wave principle and work of the R.N. Elliott. Clients include Investment Banks, Pension Funds, Total/Absolute-Return/Hedge Funds, Sovereign Wealth Funds, Corporate and Market-Making/Trading institutions and informed individuals -- & just about anyone who is affected by directional price change.
WTI Links
Search