by m.tamosauskas| March 18, 2013 | No Comments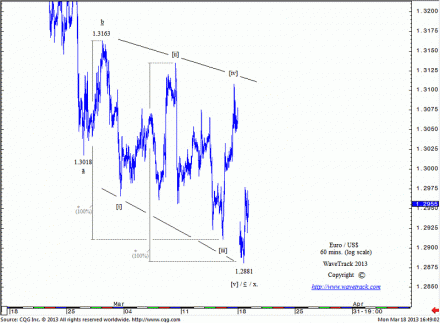 In our latest EW-Compass report published last Friday for our subscribers we noted: 'Minor wave x. is a correction to the 1.2042-1.3711 advance that unfolded as a single zig zag. Wave x. began from 1.3711 and is shown unfolding into a double zig zag sequence, subdividing into minute degree, a-b-c-x-a-b-c. The first zig zag already completed at the 1.3146 low and was followed by a swift wave x counter-trend rally to 1.3319. Now, a fib-correlative 100% equality ratio between the first and secondary zig zag projects to ultimate downside targets at 1.2770. Shorter-term structure, however, suggests a higher conclusion towards 1.2884-66.' Today's actual low was traded at 1.2881 and we immediately recognised it as a reversal signature. Short-term profits can now be protected by placing stop at 1.2919. GL!
(Become an EW-Compass report subscriber and see how this pattern continues to develop and what's coming up in the larger time-series).
Comments