by m.tamosauskas| July 29, 2014 | No Comments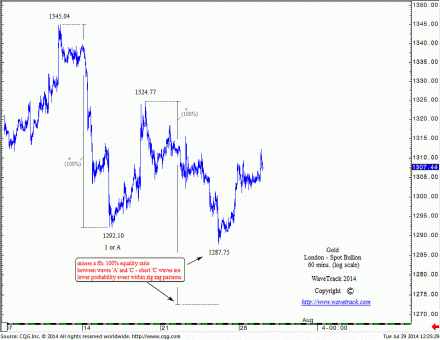 Last Friday's late-session upswings for both gold & silver have delayed the downside targets for gold towards 1272.43 having tested 1287.75 even though original levels for silver were duly reached with a low recorded at 20.11.
If silver is viewed in isolation, it is possible to describe a zig zag pattern completing into last week's low at 20.11 from the 21.60 high – that of course would suggest a more bullish outlook that points towards the alternate counts currently updated in recent weeks. But gold's equivalent decline from its 10th July high of 1344.93 is unlikely to have completed a synchronised zig zag pattern into last week's low at 1287.75 because wave 'c' of the zig zag that began its decline from 1324.77 would be 'too short' when compared to wave 'a'.
It is a common misconception that 'c' waves within zig zag patterns [commonly] measure 61.8% of 'a' waves – our archived files within WaveSearch and hands-on practice over the last twenty-five years shows a much higher commonality where waves 'a' & 'c' either conform to a fib. 100% equality ratio, or where wave 'a' is extended by a fib. 38.2% or 61.8% ratio to depict the conclusion of wave 'c'. Short 'c' waves do exist, but these occur at a significantly smaller number than manifests in the other three fib-price-ratio measurements – tip: try to avoid the temptation of labelling short 'c' waves within zig zags!
Another aspect worth mentioning is the fact that gold's secondary decline between 1324.77-1287.75 can be seen unfolding into a three wave sequence, not a five as would be required to label this as wave 'c' of a zig zag. Together, these observations suggest gold's decline from the 1344.93 high remains incomplete…
The interim-update report describing short-term forecast changes on gold and silver was just sent to all our EW-Compass subscribers. Not only does this bring you up-to-date with the short-term price developments but also valuable information on how the application of fib-price-ratios are used to distinguish between competing wave counts. (Become an EW-Compass report subscriber and get an immediate access to the interim Gold & Silver Update!)
Comments