by m.tamosauskas| August 23, 2013 | No Comments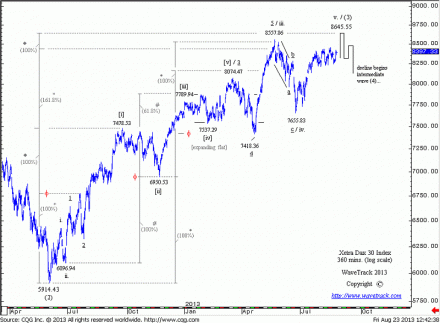 I think this chart summarizes the current stock market condition – U.S. markets have started their counter-trend rebound whilst European markets haven't finished their five wave sequences. The Dax quickly recovered from last week's low and is now on its way to ultimate upside objectives at 8645.55 to finalise a five wave expanding-impulse sequence from the June '12 low of 5914.43. Hopefully, U.S. during that time will be able to complete wave 'B' or 'X'.
Comments
Recent Posts
Recent Comments
Archives
Categories
About WTI
WaveTrack International is a financial price forecasting company dedicated to the Elliott Wave principle and work of the R.N. Elliott. Clients include Investment Banks, Pension Funds, Total/Absolute-Return/Hedge Funds, Sovereign Wealth Funds, Corporate and Market-Making/Trading institutions and informed individuals -- & just about anyone who is affected by directional price change.
WTI Links
Search