by m.tamosauskas| August 28, 2012 | No Comments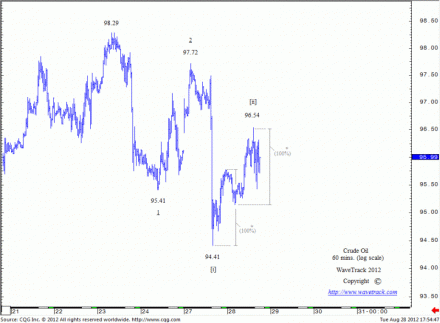 Crude oil unfolded into a three wave sequence from the recent low of 94.41. From an Elliott Wave perspective, the count from the top of 98.29 depicts a step-like series of 1's and 2's, with a third wave expansion due for crude oil at any time during the next few trading sessions.
Crude oil is positively correlated to global stock indices. If this commodity is expected to expand to the downside, this will translate into more pressure for the global stock indices.
(Become an EW-Compass report subscriber and see how this pattern continues to develop and what's coming up in the larger time-series).
Comments
Recent Posts
Recent Comments
Archives
Categories
About WTI
WaveTrack International is a financial price forecasting company dedicated to the Elliott Wave principle and work of the R.N. Elliott. Clients include Investment Banks, Pension Funds, Total/Absolute-Return/Hedge Funds, Sovereign Wealth Funds, Corporate and Market-Making/Trading institutions and informed individuals -- & just about anyone who is affected by directional price change.
WTI Links
Search