by m.tamosauskas| December 11, 2014 | No Comments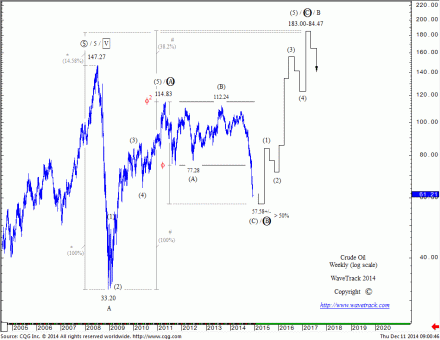 Crude Oil prices are stretching lower during the last week adding to recent accelerated declines that began from June's secondary highs. By every measure, prices are now in a state of being oversold with sellers reacting to higher stockpiles and production levels from OPEC remaining unchanged. But within the context of the preceding upswing that began from the Dec.'08 low of 33.20 ending into the May '11 high of 114.83, this current decline represents the balancing corrective phase, a necessary action that unfolds as the precursor to the next growth period, or literally, the next advance. Downside targets can vary in such conditions of balancing corrections but commonly adhere to price-measurements derived from the Fibonacci summation series. In this case, since first levels at 63.68+/- have just been exceeded slightly, the next support is at 57.58+/-. This is derived by extending the first sequence of the decline that unfolded into the Oct.'11 low at 74.95 by a Fibonacci 61.8% ratio. The second phase of the 'inflation-pop' therefore remains on schedule with ultimate upside price targets remaining unchanged towards 183.00-84.47+/-.
Copper and Gold are nearing completion and it might be that synchronised lows will deviate slightly by a couple of months. But this would not have any latent effect of changing the up-coming effect of the 'inflation-pop'.
'Inflation-pop' Update
In our 'inflation-pop' series of articles, we have cooperated with the renowned economist Gail Fosler of the GFG LLC advisory company (New York). You can read more about the economic demographics and implications of WaveTrack International's inflation-pop scenario in her latest posts here:
http://www.gailfosler.com/interview-peter-goodburn
Comments