by m.tamosauskas| August 29, 2012 | No Comments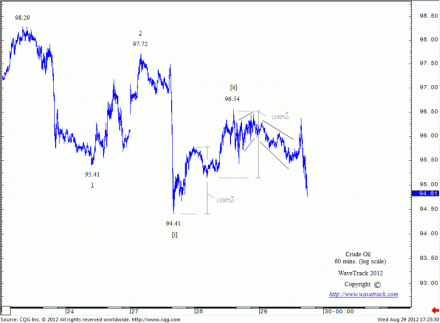 Crude oil short-term chart represents nice Elliott Wave patterns. Yesterday we mentioned that from the top of 98.29 crude oil depicts a step-like series of g 1's and 2's. It could be that another smaller 1 and just finished couple of minutes before. Today it maintains unfolding in the same manner. The only thing that is missing – is accelerative down-swing, which could start any time from now.
 (Become an EW-Compass report subscriber and see how this pattern continues to develop and what's coming up in the larger time-series).
Comments
Recent Posts
Recent Comments
Archives
Categories
About WTI
WaveTrack International is a financial price forecasting company dedicated to the Elliott Wave principle and work of the R.N. Elliott. Clients include Investment Banks, Pension Funds, Total/Absolute-Return/Hedge Funds, Sovereign Wealth Funds, Corporate and Market-Making/Trading institutions and informed individuals -- & just about anyone who is affected by directional price change.
WTI Links
Search