by WaveTrack International| January 28, 2019 | No Comments
Commodities Video Outlook 2019 released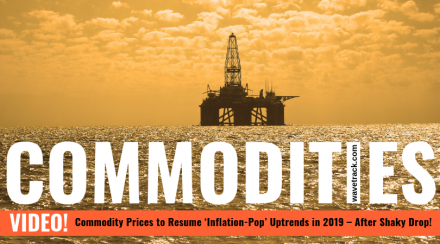 Commodities Prices to Resume 'Inflation-Pop' Uptrends in 2019 – After Shaky Drop!
INCLUDES ANALYSIS ON MEDIUM-TERM CYCLES & EQUITY MINERS
We're pleased to announce the publication of WaveTrack's annual Commodities 2019 video Outlook of medium-term ELLIOTT WAVE price-forecasts. Today's release is PART II, COMMODITIES. Part I was released last month and Part III will be published in February.
• PART I – STOCK INDICES – out now!
• PART II – COMMODITIES – out now!
• PART III – CURRENCIES & INTEREST RATES – coming soon!
Commodities – Forecasts for 2018 – REVIEW
In last years' annual 2018 EW-Forecast Video, several key commodity events were highlighted –
Base Metals were identified as ending their 1st wave upswing within the 2nd Phase of the 'INFLATION-POP' uptrend that began from the Feb.'16 lows. As a result January's report forecasted a hefty 2nd wave correction unfolding through 2018. This theme was updated in the bi-annual follow-up report published in July '18
Precious Metals were forecast lower through 2018. Mainly as a result of expectations of a stronger US$ Dollar. Similarly, precious metal mining stocks were forecast lower with headwinds coming from a corrective downturn in global equity markets. However, the only exception was palladium which was forecast engaged in a strong uptrend
Crude oil cycles were still moving higher last January but they were next due to form a peak in August '18. Meanwhile, crude oil was trading at 60.39 but was forecast up to 78.90+/-. Also Brent oil was trading at 66.92 with upside forecasts to 77.22+/-, max. 93.80+/- (averaging 85.50+/-).
How did these Elliott Wave price-forecasts pan out?
The main drivers that permeated most asset classes in 2018 also affected commodity prices too – to begin with, the US$ dollar staged a successful turn-around last February, heading higher to begin a counter-trend correction following a -15% per cent drop in 2017. That pulled Base and Precious Metals lower in-line with forecasts.
Copper was late in beginning its counter-trend decline, although others in the group, Lead and Zinc topped-out right on cue. Copper has since declined by -22% per cent!
The Base/Precious metal miners began to fall rapidly as the U.S. stock markets staged a strong decline late-January/early-February, triggered by the emergence of a tariff trade war between the U.S. and its global trading partners. Despite a recovery from April through to late-September, the overall sell-off resumed in October, pulling the miners even lower although Gold and Silver have since formed important lows in August/November.
Gold was forecast down to interim targets of 1157.65+/- from 1303.00 and ultimately towards 1123.00+/-. The August low was 1160.24.
Silver was trading at 16.96 in January '18 with downside targets to complete a 2½ year correction towards 14.04+/-. The November '18 low was 13.89.
Palladium was singled-out in last year's forecasts as maintaining its uptrend – it went on to gain +20% per cent into December's high.
The Energy markets were in a slightly different timing-rhythm to other commodities although upside targets for Crude Oil towards 78.90+/- ran slightly shy to end a 2½ year zig zag upswing at 76.90. But the Elliott Wave zig zag was perfectly formed into the early-October high – it has since declined by -44% per cent!
The Next 6-12 Months (2019)
When stock markets declined in early-2018, many large investment houses were caught out. Mainly because analyst's economic outlooks remained on a growth path without any interruptions – a big linearly-extrapolated mistake. The next peak in late-September was more 'telegraphed' but still, asset managers were overly committed in their long portfolio positioning.
It makes you wonder what has to happen before liquidation occurs? – the answer – a severe sell-off! That doesn't sound logical if the idea is to buy low and sell high as the maxim goes. But it's tough to change human habits unless you're trained to look at things differently, as many do who practice the Elliott Wave Principle over many years. But even those that do can often fall into the traps.
Mainstream EW practitioners are labelling the U.S. stock market's uptrend from the financial-crisis lows of 2009 as ending a five wave impulse pattern into the 2018 highs. Even though we sympathise, this doesn't make sense when taking a macro-view alongside so many other global indices, those traded in Europe, Asia and many Emerging Markets. It neither fits together with other asset classes like COMMODITIES.
Elliott Wave and the Final Commodities Cycle
Since early-2010, following several months of stock and commodity market gains, we've identified an upcoming 'INFLATION-POP' within the multi-decennial deflationary cycle. That would ultimately see many U.S. and global stock markets make new record highs into the next decade along with commodity markets. Well, that process hasn't finished yet!
Commodities markets are forecast significantly higher in 2019 into the next few years, extending the next phase of the 'INFLATION-POP'. For this reason this next phase is going to be HUGE because it's the final sequence of the cycle. Consequently it's going to be important to sift through the different commodities and their equities to see which maintain outperformance and those which will simply limp higher. But rest assured, this next huge advance is coming!
New Commodities 2019 Video – PART II/III
We've amassed over 75 commodity charts from our EW-Forecast database in this year's Commodities 2019 video. As a result each one provides a telling story into the way Elliott Wave price trends are developing in this next INFLATION-POP' phase of cycle development. Also we're taking a look at some very specific patterns that span the entire SUPER-CYCLE. Explaining why the super-cycle began from the GREAT DEPRESSION lows of 1932 and not from the lows of 1999 and how this ended in 2006-2008. And why the multi-decennial corrective downswing that began soon afterwards is taking the Elliott Wave pattern form that it is.
Furthermore, we're updating some amazing cycles in the US$ dollar that you've simply got to see. Plus others for the CRB-Cash index which begins from the year-1760 (yes, 259 years ago!), Copper, Zinc, Gold, Silver and Crude Oil. Now that's an amazing outlook. Last year's forecasts were so accurate, it's like having your very own crystal ball! And there are huge implications for the price development of Energy prices in 2019. Above all the real give-away that corroborates our theme is revealed in the Elliott Wave pattern development of the XLE Energy index – it's a must-see!
We invite you to take this next step in our financial journey with us. Video subscription details are below. Just follow the links and we'll see you soon!
Most sincerely,
Peter Goodburn
Founder and Chief Elliott Wave Analyst
WaveTrack International
Contents: 69 charts
• CRB-Cash index + Cycles
• Copper + Cycles
• Aluminium
• Lead + Cycles
• Zinc + Cycles
• Nickel
• Tin
• XME Metals & Mining Index
• BHP-Billiton
• Freeport McMoran
• Antofagasta
• Anglo American
• Kazakhmys Copper
• Gold + Cycles
• GDX Gold Miners Index
• Newmont Mining
• GoldCorp Inc.
• Barrick Gold
• Agnico Eagle Mines
• AngloGold
• Silver + Cycles
• XAU Gold/Silver Index
• Palladium
• Platinum
• Crude Oil + Cycles
• Brent Oil
• XLE Energy SPDR Index
CONTACT US NOW VIA EMAIL – SELECT YOUR PACKAGE
Single Video – *$48.00 – PART II Commodities Video 2019 (Jan. '19)
Triple Package offer – *$96.00 (saving 33%)! – PART I – PART II – PART III (Jan. – Feb. '19)

Each video runs for at least 1 hour 20 minutes and it's packed with SPECIFIC Elliott Wave price-forecasts (the Commodities Video is already 1 hour 58 mins. long!).
*(additional VAT may be added depending on your country – currently US, Canada, Asia have no added VAT but most European countries do)
BONUS!
Each of the 38+ charts. The Commodities Video Outlook 2019 contains 70 charts already. illustrated in the VIDEOS will be created into a .pdf document/report and sent to you so that you can always keep these to refer to!
PART III will be available in a few weeks' time (February/March 2019!) – we're working on it!
HOW CAN YOU RECEIVE THE VIDEO FORECAST?
To receive your VIDEO UPDATE please click here to contact us.
– Please state if you wish to purchase the SINGLE VIDEO – Commodities Video 2019 for USD *48.00?
– Or opt for the TRIPLE PACKAGE for USD *96.00 in total?
– Next we will send you a PayPal payment request and provide you with the video link & PDF report once confirmed.
– Alternatively, we can process credit card payments for you as well – please contact us. Thank you.
*(additional VAT may be added depending on your country of residence. Currently, the US, Canada, Asia have no added VAT. However, most European countries do)
We're sure you'll reap the benefits – don't forget to contact us with any Elliott Wave questions – Peter is always keen to hear you views, queries and comments.
Visit us @ www.wavetrack.com
Category:
AngloGold Ashanti
,
Base Metals
,
Commodities
,
Copper
,
Crude oil
,
Cycles
,
Elliott Wave
,
Emerging Markets
,
Fibonacci Trading
,
Gold
,
Gold Mining
,
Mines
,
Mining
,
Palladium
,
Platinum
,
Silver
,
video
Comments