by m.tamosauskas| July 14, 2014 | No Comments
We also have been bullish on gold, but that's now one-month-old news… Here is what EW-Compass report was suggesting on 4th of June: 'Although gold's decline from the April high of 1331.21 has unfolded to current levels into a seven price-swing formation, as a double zig zag however, it must now immediately begin a reversal advance to confirm its completion. Should prices hold the 1240.00+/- level and begin trading back above 1260.00+/-, then a continuation higher is forecast to complete towards 1339.26 ending minor wave ii. as an expanding flat.' Since this forecast has been published, gold prices advanced about 100.00 US dollars per ounce, but thats not all!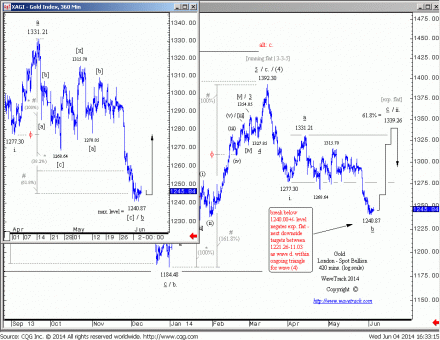 Today we have  a reversal signature from the main resistance level around 1340.00+/- with gold prices already trading around 20.00+/- US dollars downwards. The downtrend is expected to continue during the next few months. Don't miss the next opportunity! Become an EW-Compass report subscriber and see how this pattern continues to develop and what's coming up in the larger time-series!
Comments