by m.tamosauskas| June 2, 2015 | No Comments
Back in October '14 we advocated that Aussie$ / New Zealand$ is about to begin the final sell-off within a larger decline that began from the March '11 high of 1.3800. This downswing was expected to unfold into a five wave expanding-impulse pattern, labelled 1-2-3-4-5 in primary degree with ultimate downside objectives measured towards 1.0247-0162: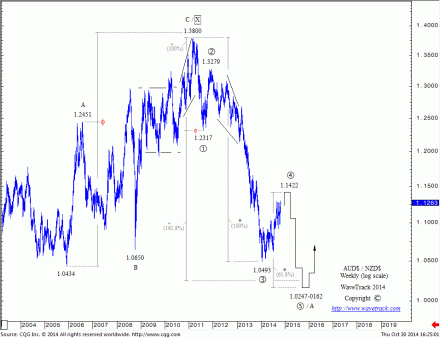 The downside targets were measured by using a fib. 61.8% correlation ratio between the net decline of waves 1 to 3 and wave 5. This is our common Elliott Wave fib-price-ratio for expanding-impulse patterns. Without it, it would be difficult to measure such an accurate support level, which after some months, turns out to be the exact outcome: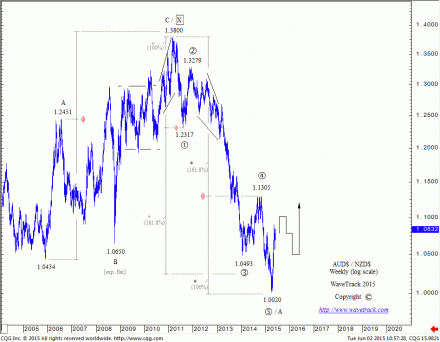 Prices responded precisely with a recorded low at 1.0020 in April '15 and the following price rejection to the upside suggests a multi-year decline has completed into this low!
Comments