by m.tamosauskas| February 22, 2013 | No Comments
In 11th of February a short-term setup was presented:
'Apple Inc. provides an attractive short-term trading setup: the expected counter-trend rebound from the 435.00 price level is unfolding into a double zig zag pattern labelled [a]-[b]-[c]-[x]-[a]-[b]-[c] in minuette degree. Ratio and proportion analysis again provides an excellent roadmap where this advance is expected to complete. Ultimate upside targets are measured towards 478.81-480.53. This is derived by extending the first zig zag sequence by a fib. 61.8% ratio to 480.53 that closely converges with an equality between waves [a] and [c] of the secondary zig zag pattern. A reversal signature would indicate declines to resume larger downtrend towards 411.87. The behavior of this equity during the next several trading session could be a very useful hint for the broader US equity market, since Apple Inc. is a big component in S&P 500 and Nasdaq Composite indices. Good luck!'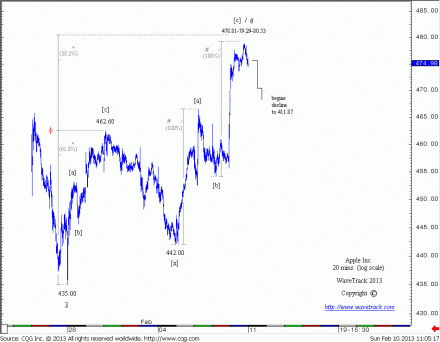 An updated chart as of yesterday's trading session shows that the decline as an ongoing intermediate wave (4) remains in tact: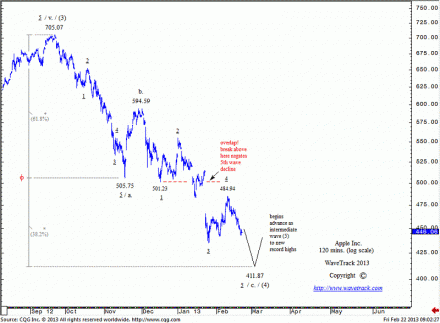 It has exceeded slightly our original upside targets with a recorded high at 484.94 but no damage have been done to the overall pattern. The advance from the  low of 435.00 is clearly composed of three price-swings (waves). A reversal has been trigered ( and also on global stock indices). The stop price level for this setup is 501.23 – since 4th wave is not allowed to enter into 1st wave's territory. Good luck!
Comments