by m.tamosauskas| January 22, 2015 | No Comments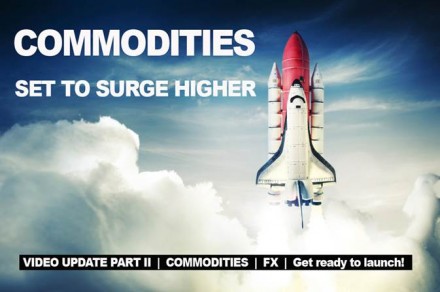 The latest edition of the
Elliott Wave Compass
report has just been released and
WaveTrack's long awaited Commodity and Currency video
!
Learn why Commodities & Currencies (PART II) – Commodity declines of the last few years are now approaching important downside targets that complete 3½+/- year corrective patterns that began in early 2011. Copper, Crude Oil and particularly Precious Metals are signalling directional changes that begins the 2
nd
upswing phase of the 'Inflation-Pop' that originally began from the late 2008, early 2009 lows. The US$ dollar has also reached an important upside target that justifies its completion of the entire counter-trend upswing that began from the March '08 lows. In this latest video, we discuss these current set-ups and how they continue during the next few years:
·
Industrial metals are unfolding into archetypal multi-year zig zag patterns from the 2008/09 lows with the next stage set to begin huge price advances for Copper and Platinum
·
Precious metals have turned the corner last November/December '14, ending counter-trend declines from the year-2011 highs. Gold and Silver mining stocks have ended expanding flat patterns from the year 2007/08 highs and are set to explode higher during the next few years
·
The US$ dollar enters a period of significant declines – this corroborates the dollar-denominated commodity upsurge that enters the next stage of the 'Inflation-Pop'.
How do you access this video?
Please become an EW-Compass subscriber and log-in to your account at
www.wavetrack.com
. Open the EW-Compass application and view all the latest price-forecasts online in our purpose-built Elliott Wave software.
Category:
Commodities
,
Copper
,
Crude oil
,
crude oil price chart
,
Currencies
,
Elliott Wave
,
Elliott Wave Charts
,
Elliott Wave Patterns
,
Elliott Wave Principle
,
Emerging Markets
,
fib-price-ratio
,
Financial Forecasting
,
FX
,
Gold
,
Silver
,
WaveTrack International
Tags:
Commodities
>
Elliott Wave analysis
>
EW-Compass
Comments