by m.tamosauskas| July 17, 2014 | No Comments
Late last year, 2013, we published Alcoa forecast showing a double zig zag advance is being in progress from the March '09 low of 4.97: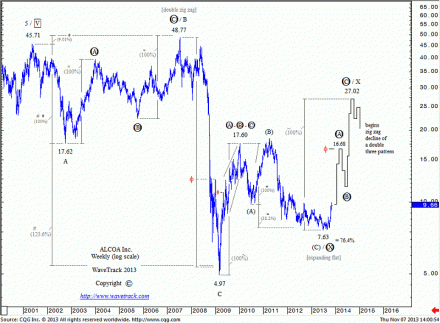 Yesterday (2014-07-16) Alcoa prices recorded a 16.71 high – a fib. 61.8% cut of the entire projected advance (7.63-27.02) which is the most common measurement within a zig zag pattern and just a 3 cents above our original interim target for primary wave A of the secondary zig zag pattern: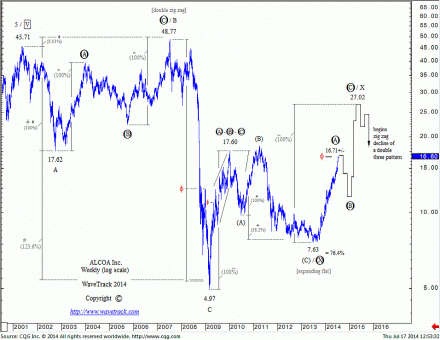 It will be interesting to see how this equity trades during the next few days. A reversal signature from the 16.71+/- resistance level would indicate the completion of primary wave A and  the following decline is expected to begin a balancing progress as primary wave B.
Comments
Recent Posts
Recent Comments
Archives
Categories
About WTI
WaveTrack International is a financial price forecasting company dedicated to the Elliott Wave principle and work of the R.N. Elliott. Clients include Investment Banks, Pension Funds, Total/Absolute-Return/Hedge Funds, Sovereign Wealth Funds, Corporate and Market-Making/Trading institutions and informed individuals -- & just about anyone who is affected by directional price change.
WTI Links
Search