by m.tamosauskas| September 21, 2012 | No Comments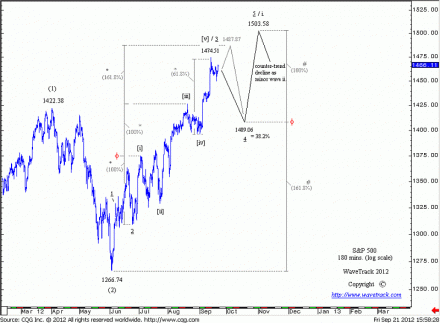 The sell off from the recent 1474.51 high is expected to have begun a counter-trend decline labelled the 4th wave within an ongoing five price-swing advance. Downside targets during the next weeks measure to the fib. 38.2% support at 1409.06 – a reversal from there would trigger the finalising advance to original upside objectives at 1503.58. Very short-term, there is an 'alternate' route to the 1409.06 target: the S&P could stage an advance to 1487.87 prior to the decline. This upside resistance is measured by a fib. 161.8% extension of minuette wave [i].
(Become an EW-Compass report subscriber and see how this pattern continues to develop and what's coming up in the larger time-series).
Comments
Recent Posts
Recent Comments
Archives
Categories
About WTI
WaveTrack International is a financial price forecasting company dedicated to the Elliott Wave principle and work of the R.N. Elliott. Clients include Investment Banks, Pension Funds, Total/Absolute-Return/Hedge Funds, Sovereign Wealth Funds, Corporate and Market-Making/Trading institutions and informed individuals -- & just about anyone who is affected by directional price change.
WTI Links
Search