by m.tamosauskas| January 12, 2015 | 2 Comments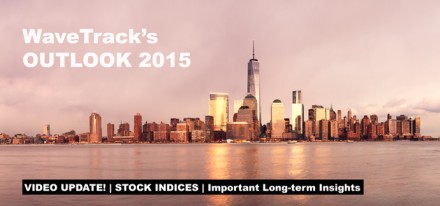 Stock Indices (PART I) – Original S&P upside forecasts published October 2009 and updated in July 2012 forecast levels higher by +87% – those numbers are now being tested! In this video, you will discover:
how this EW pattern and forecast was constructed
why the Elliott Wave count was so accurate and
why current levels have reached a decisive crossroad for 2015 and beyond
The next phase of WaveTrack's 'Inflation-Pop' is set to begin for other asset classes, but in this video, you will discover some amazing price-forecasts for U.S., European and Asian stock markets – how they interact and what price levels we can expect to see during the next year and beyond! This video is a 'must see' in terms of Elliott Wave because it will slice through mainstream misconceptions and give you a precise guide for what to expect during the next few years – let our Track Record speak for itself!
Subscribe to the Elliott Wave Compass report and view the video absolutely FREE!
P.S. Part II will be published soon – Commodities & Currencies
Category:
Australia ASX 200
,
DJ Utilities
,
Dow Jones 30
,
Elliott Wave
,
Emerging Markets
,
Eurostoxx 50
,
Hang Seng
,
India-CNX Nifty 50
,
Nasdaq 100
,
Nikkei 225
,
Russell 2000
,
Russia RTS
,
S&P 500
,
WaveTrack International
Tags:
Elliott wave video update 2015
Comments