by m.tamosauskas| June 7, 2013 | No Comments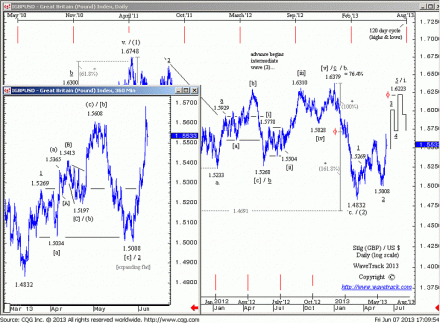 For some it was quite hard to imagine this count, but here we go – a break above gives us more confidence it's resuming its larger uptrend! Sterling quickly exceeded upside resistance at 1.5439 and has thus validated a successive 1-2-1-2 sequence from the 1.5008 low with 3rd of 3rd acceleration now in progress. This should restrict counter-trend declines to small amplitudes and spark additional upside in the months ahead. Basis the larger perspective that projects upside to 1.8750+/- during the next several months, a golden cut projects interim targets to 1.6223 for the initial upswing from 1.4832.
Comments
Recent Posts
Recent Comments
Archives
Categories
About WTI
WaveTrack International is a financial price forecasting company dedicated to the Elliott Wave principle and work of the R.N. Elliott. Clients include Investment Banks, Pension Funds, Total/Absolute-Return/Hedge Funds, Sovereign Wealth Funds, Corporate and Market-Making/Trading institutions and informed individuals -- & just about anyone who is affected by directional price change.
WTI Links
Search