by m.tamosauskas| October 11, 2013 | No Comments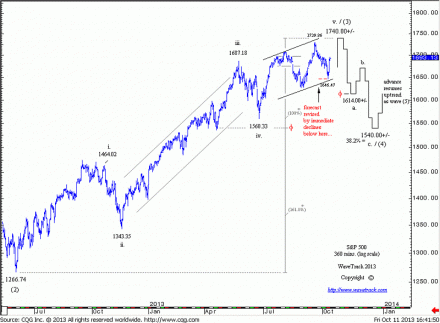 Intermediate wave (3) that began from the June '12 low of 1266.74 is shown unfolding into a five wave expanding-impulse sequence, subdividing into minor degree, i-ii-iii-iv-v. In this 'preferential' count, wave iii. is shown to have completed at the May '13 high of 1687.18 followed by wave iv. to 1560.33. Subsequent wave v. is taking the shape of an ending-expanding diagonal pattern – upside targets are measured to 1740.00+/- by a fib. 61.8% extension of the finalising 4-5-4-5 sequence.
Comments
Recent Posts
Recent Comments
Archives
Categories
About WTI
WaveTrack International is a financial price forecasting company dedicated to the Elliott Wave principle and work of the R.N. Elliott. Clients include Investment Banks, Pension Funds, Total/Absolute-Return/Hedge Funds, Sovereign Wealth Funds, Corporate and Market-Making/Trading institutions and informed individuals -- & just about anyone who is affected by directional price change.
WTI Links
Search