by m.tamosauskas| January 10, 2013 | No Comments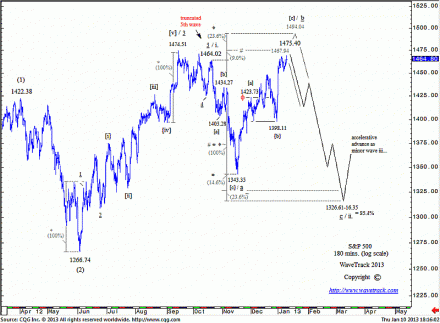 The S&P's break above 1464.02 has promoted this count to 'preferential' status. It implies a bit more upside potential towards idealised targets at 1475.40 prior to a reversal and subsequent downswing to 1326.61-16.35 to finalise a larger expanding flat pattern that began from the 18th October high of 1464.02. An acceleration above 1475.40 would trigger even more upside to 1494.04 but is assigned lower probability due to a comparison with the major European indices that are already approaching original upside targets.
 (Become an EW-Compass report subscriber and see how this pattern continues to develop and what's coming up in the larger time-series).
Comments
Recent Posts
Recent Comments
Archives
Categories
About WTI
WaveTrack International is a financial price forecasting company dedicated to the Elliott Wave principle and work of the R.N. Elliott. Clients include Investment Banks, Pension Funds, Total/Absolute-Return/Hedge Funds, Sovereign Wealth Funds, Corporate and Market-Making/Trading institutions and informed individuals -- & just about anyone who is affected by directional price change.
WTI Links
Search