by m.tamosauskas| February 13, 2014 | No Comments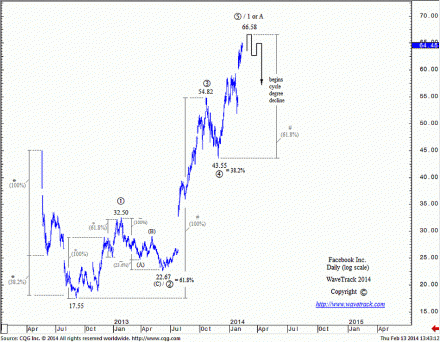 Facebook is maintaining the upside momentum. The advance that began from the Sep.'12 low of 17.55 is expected to unfold into a five wave expanding-impulse pattern labelled 1-2-3-4-5 in primary degree. Ultimate upside target is extended towards 66.58 and is derived by using a fib. 61.8% correlation ratio between the net advance of primary waves 1 to 3 (17.55-54.82) and wave 5.
Since the data history of Facebook is limited, it is difficult to extrapolate the larger degree pattern; however, any five wave advance must be balanced by a counter-trend decline and so, once upside target to 66.58 has been tested, Facebook is expected to stage a multi-month decline with minimum downside targets measured towards 43.35+/- – back to a smaller degree 4th wave preceding.
Comments