by m.tamosauskas| June 29, 2015 | 3 Comments
This month, the German Xetra Dax is in the spotlight. From its mid-March high of 12219.05, it was engaged in an expanding flat sequence. Although this is one of the patterns we encounter very often, it nevertheless is always again fascinating to behold! Comprised of a 3-3-5 structure, the expanding flat is characterised by an expanding bias – this means that each following price swing exceeds the price extreme set by the preceding one.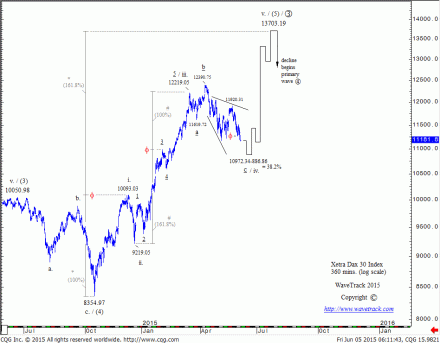 In the case of the Dax index, the initial decline into the 11619.72 low was labelled (minute) wave a of the sequence. It was followed by wave b rallies that exceeded the point of departure of wave a and traded into 'uncharted' territory. Wave c however proved to be the most interesting wave – first, it declined in an impulse-like fashion (c-waves of flats have to unfold into impulsive structures) but then engaged into a more overlapping type of price activity. This was early spotted by our analysts who described wave c as unfolding into an ending expanding-diagonal.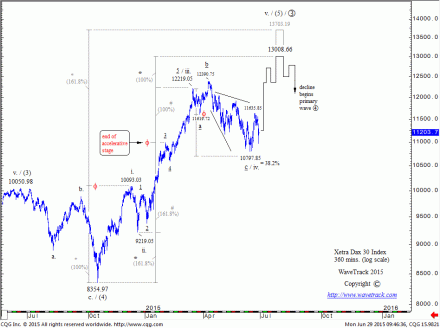 Originally, downside objectives were measured basis the substructure of the diagonal's 5th wave – downside extension of the Dax however led us to apply a fib. 161.8% extension of wave a of the flat. This is typically the maximum we expect wave c to travel – and indeed, also in this case the Dax reversed close to this downside target (shown by the dotted line) and has since staged a reversal signature that has corroborated additional upside in the weeks ahead, regardless the Greek circus.
Comments