by m.tamosauskas| June 2, 2014 | No Comments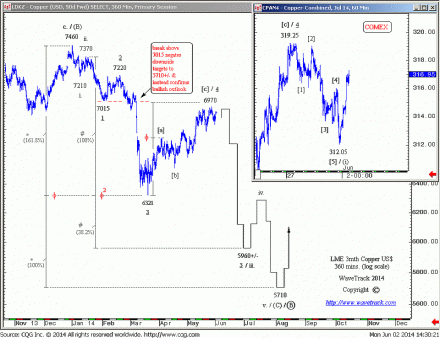 Copper has so far unfolded higher from the March '14 low of 6321 into a three wave sequence – this has the dimensions of ending a counter-trend zig zag pattern. It was critical for prices to remain below the Elliott Wave 'overlap' resistance of 7015 if downside forecasts below the March low were to remain valid. So far, prices have ended the zig zag upswing below this level, at last week's high of 6970 (319.25 – COMEX).
As if to validate a reversal signature, the subsequent decline from those highs has unfolded into an intra-hourly five wave pattern that ended into last Friday's low at 6836 (312.05). This heightens the probability that the entire upswing from the March low has ended, and a new series of declines is about to begin, lasting the next couple of months or so, with downside targets to 5710+/-.
Only an accelerative break above the 7015 resistance would change this outlook.
Comments