by WaveTrack International| January 28, 2022 | No Comments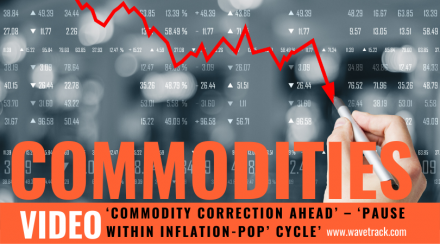 We're pleased to announce the publication of WaveTrack's annual 2022 video outlook of medium-term ELLIOTT WAVE price-forecasts. Today's release is PART II, COMMODITIES – Part I was released last month and Part III will be published in late-February
• PART I – STOCK INDICES – out now!
• PART II – COMMODITIES – out now!
• PART III – CURRENCIES & INTEREST RATES – coming soon!
Inflation-Pop within Deflationary Cycle
Commodities have been the largest contributor of rising inflationary pressures over the last year as Consumer Prices (CPI's) from around the world surge to 30-year highs – in the U.S., headline CPI has recently printed levels to 7.1% whilst Fed Funds have remains stuck at the Fed's current all-time-low of 0.00%-0.25% per cent – US10yr yields only 1.900%.
These huge price rises have been expected though, part of the second stage of the 'Inflation-Pop' cycle that began from the grand 'Re-Synchronisation' lows of 2016. Many commodities like Copper forged secondary lows at the beginning of 2016, others like Crude/Brent oil joined the inflation-pop cycle much later and from much lower, comparable levels, at the pandemic lows of March '20. But all have one thing in common – these price advances, although huge, are part of a much longer term 'deflationary cycle' that is balancing the end of the 'Commodity Super-Cycle' that unfolded from the Great Depression lows of 1932 into the orthodox end in 2006-08.
Rising Inflationary Pressures – Food & Energy
Recent investment bank surveys show the biggest concern amongst large asset funds is rising inflationary pressures – it's not surprising the Federal Reserve having seen CPI above 7.0% per cent have panicked, reversing policy that inflation was transitory into its current persistent dialogue. It seemed obvious last year the Fed would end up chasing their own tail in a catch-up situation of rising inflation whilst holding back on interest rate rises – we now see the central bank unwinding its bond-buying programme in preparation for interest rate rises in March this year. With commodities expected to undergo severe corrections this year, inflationary pressures are forecast to pull back from recent highs prior to resuming higher in 2023/24. See fig #1
Commodity Correction During Next 6-8 Months
Whilst commodity prices have surged higher from the pandemic lows of March '20, many have unfolded higher into five wave impulse patterns, either ending last May '21 like Copper, or into more recent highs like Crude/Brent oil, depending on the commodity. These disparative highs are not uniform which makes it difficult to pinpoint when exhaustion tops occur, but when some underperform, i.e. Copper pulls lower from last year's highs whilst Crude/Brent oil make higher-highs, this sets-up bearish divergences across many technical signals – a bearish warning of impending price declines.
Rare Earth Metals
Rare Earth Metals have seen exponential price rises from pandemic lows – this report features price forecasts for the VanEck Vectors Rare Earth ETF and analysis of MP Materials Corp. who owns and operates he Mountain Pass mine, the only operating rare earth mine and processing facility in the United States. See fig #2
Commodities Video Part II
Contents: 125 charts
Time: 2 hours 47 mins.
• US PCE Inflation
• US CPI
• Food and Agriculture Index
• Lumber
• CRB-Cash index
• US Dollar index + Cycles
• Copper + Cycles
• Aluminium
• Lead
• Zinc
• Nickel
• Tin
• XME Metals & Mining Index
• BHP-Billiton
• Freeport McMoran
• Antofagasta
• Anglo American
• Glencore
• Rio Tinto
• Teck Resources
• Vale
• Gold + Cycles
• GDX Gold Miners Index
• Newmont Mining
• Amer Barrick Gold
• Agnico Eagle Mines
• AngloGold Ashanti
• Fresnillo Silver
• Silver + Cycles
• Silver/Copper Correlation
• XAU Gold/Silver Index
• Gold-Silver Ratio
• Gold/Platinum Spread
• Platinum
• Palladium
• Rare Earths
• Iron Ore
• Uranium
• Crude Oil + Cycles
• Brent Oil
• XLE Energy SPDR
• XOP Oil and Gas Index
• Natural Gas
How can you purchase the video?
1. Contact us @ services@wavetrack.com and ask for a PayPal payment link (please state if you like to purchase the Commodities Single video or the Triple Video?).
2. Ask for an individual credit card payment link (in case you do not with to pay via PayPal).
Each video runs for at least up to 2 hours and it's packed with SPECIFIC Elliott Wave price-forecasts (the Stock Indices Video is 2 hour 20 mins long!).
*(additional VAT may be added depending on your country – currently US, Canada, Asia have no added VAT but most European countries do)
We're sure you'll reap the benefits – don't forget to contact us with any Elliott Wave questions – Peter is always keen to hear you views, queries and comments.
Visit us @ www.wavetrack.com
We're sure you'll reap the benefits. Don't forget to contact us with any Elliott Wave questions. Our EW-team is always keen to hear your views, queries, and comments.
Visit us @ www.wavetrack.com
Category:
Base Metals
,
Commodities Video Outlook 2020
,
Copper
,
CRB
,
Crude oil
,
Cycles
,
Elliott Wave
,
Emerging Markets
,
Gold
,
Gold Mining
,
Mines
,
Mining
,
Palladium
,
Platinum
,
Precious Metals
,
XAU Gold/Silver Index
,
XOP
,
Zinc
Comments