by WaveTrack International| November 3, 2022 | No Comments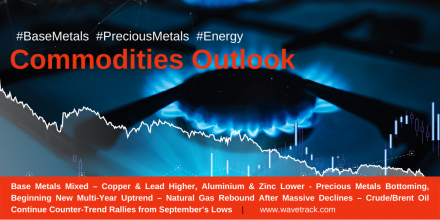 Commodities – Base Metals Mixed – Copper & Lead Higher, Aluminium & Zinc Lower – Precious Metals Bottoming, Beginning New Multi-Year Uptrend – Natural Gas Rebound After Massive Declines – Crude/Brent Oil Continue Counter-Trend Rallies from September's Lows
Natural Gas Prices – Elliott Wave Forecasts predicted the decline!
Commodities Highlight! European TTF Gas prices have declined by -72% per cent from the late-August high whilst U.S. Natural Gas prices have declined during the same time by -52% per cent. And here we are, seeing core inflationary pressures still rising!
Just today, Eurozone CPI (HICP) inflation for October has come through at an annualised headline rate of 10.7% per cent. The highest ever recorded across the Bloc. As a result, core CPI is rising too, but much lower at 5.0% per cent.
Just last week, U.S. headline CPI was annualised at 8.2%, down from June's high of 9.1% per cent but with core rising much faster, at new post-pandemic highs of 6.6% per cent.
Inflationary Pressures and Natural Gas Conundrum
Both Europe and the U.S. central banks have blamed Food & Energy as the two key components within CPI that are responsible for elevated inflationary pressures. But if that's correct, how is it possible for continued inflation rises whilst TTF and Natural Gas prices are plummeting? Is this just a lag? Or some other explanation?
What about Japanese Inflation?
Japan is the world's 3rd biggest economy. They consume food and energy just like you and me. And yet inflation is only 3% per cent – why? We're told it's because there's government price controls in place. E.g. an aging population with some of the world's highest savings rates and negative interest rates implemented by the Bank of Japan. Certainly, all contributing factors. But are these able to absorb the huge energy price rises of the last 18-months? We think not. One thing's for sure, now that TTF/Natural Gas prices have collapsed lower, we should expect inflation to come down now. If not, then data manipulation on a grand scale is where our thoughts lead to next.
How are Central Banks responding to rising Inflationary Pressures?
Right now, there's no let up in Central Banks (CB's) responding to inflationary pressures. Especially, with aggressive hiking cycles expected to continue through to year-end. The number of CB's hiking have reached a new peak – see fig #1.
This is having a negative impact on sentiment in both financial markets and small businesses in western economies. Even U.S. Federal Reserve officials are recognising the current pace of interest rate increases are likely to impact growth prospects, even causing a recession – see fig #2.
Commodities and the Bank of America Fund Manager Survey
In the latest Bank of America Fund Manager Survey, close to a record percentage of fund managers expect a weaker economy in the next 12-month period – see fig #3. That's an incredible number because it surpasses bearish sentiment lows of the pandemic, the financial crisis and the post-dot-com crash lows of 2002. In all cases though, a silver lining in the cloud can be found. Notice how on each occasion of these previous lows, the benchmark S&P 500 begins a new bull market uptrend between 0-12 months afterwards.
That's very interesting when we also take a look at how Commodity prices fit into the picture. The current extremes of economic pessimism is interpreted as a contrarian bullish signal within the next 0-12 month period. This certainly fits into the overall picture we see in the Elliott Wave structure of both Base Metals and Energy prices.
Commodities and the CRB Index
The CRB-Reuters/Jefferies index illustrates the point – where the post-pandemic advance has unfolded into a five wave impulse pattern from 101.48 finishing last June at 329.59 – see fig #4.
It has since begun a counter-trend downswing, shown unfolding into a corrective double zig zag pattern. This is set for a rebound higher for a month or so, but then continuing its decline until downside targets are reached into the end of Q1 2023, around levels of 202.45+/-. That's another -25% per cent lower than today's price levels – it's already dropped -20% per cent so far this year.
Declines of another -25% per cent are mostly correlated to the Energy markets. Base Metals have already completed most of their corrective declines although there's still more downside risk too. The exciting area for commodities is precious metals. These are forming major lows with small downside risk this month, New multi-year uptrends are set to begin.
Watch the latest amazing EW-Commodities video and get more insights about s trading opportunities in our latest EW-Commodities Outlook report and video update!
Category:
Base Metals
,
Commodities
,
Copper
,
CRB
,
Crude oil
,
Elliott Wave Charts
,
GDX
,
Gold
,
Gold Mining
,
Mines
,
Mining
,
Platinum
,
Precious Metals
,
Silver
,
trading
,
XOP
,
Zinc
Comments