by m.tamosauskas| April 22, 2015 | No Comments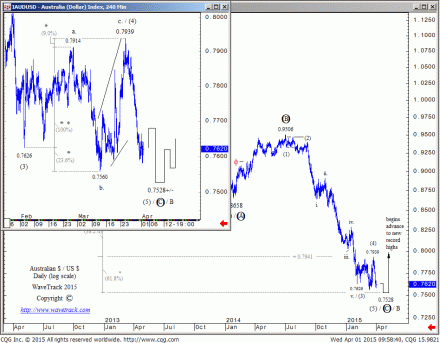 In the last weeks, we witnessed a spectacular bottoming formation on the AUD/US$. The currency pair staged a nice expanding flat before pinpointing its long-term downside objective that was measured by our fib-price-ratio measurements. The following strong price rejection once again has proved the validity of these measurements. There is now a high probability that the AUD/US$ could have completed a multi-year decline: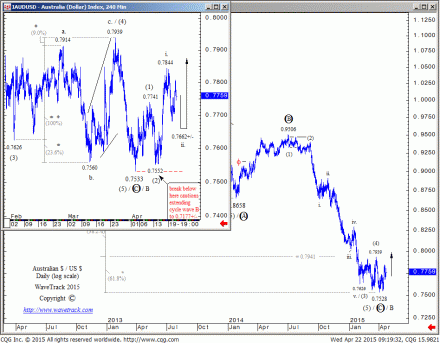 Comments
Recent Posts
Recent Comments
Archives
Categories
About WTI
WaveTrack International is a financial price forecasting company dedicated to the Elliott Wave principle and work of the R.N. Elliott. Clients include Investment Banks, Pension Funds, Total/Absolute-Return/Hedge Funds, Sovereign Wealth Funds, Corporate and Market-Making/Trading institutions and informed individuals -- & just about anyone who is affected by directional price change.
WTI Links
Search